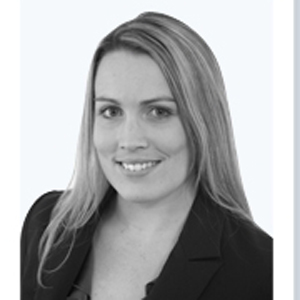 A Sydney litigation lawyer has launched a sexy new online store – selling vibrators.
Emma Jervis (pictured), a senior associate with Sydney firm Neville & Hourn, set up website Naughty Miss Jones (NMJ) in April.
"I wanted to do something for myself," Jervis told Lawyers Weekly when explaining why she decided to set up the website. "I wanted to do something that was quite different to law that had a fun side to it; a cheeky side to it."
Folklaw imagines she probably gets more of a buzz from running the website than her day-to-day work in the corporate and family law areas.
Jervis' colleagues and clients know about her sideline project (at least they do now) and she said the clients she has told about it found it "hilarious" and told her to "go for it".
"One of my bosses is a very entrepreneurial person ... so he's quite supportive [of the business], though he gets embarrassed by the subject matter," she added. "[My colleagues] don't have a problem with it. I think they realise I'm the sort of person that will want to do things for myself as well."
Jervis said she saw a gap in the market for this website when her girlfriends revealed they would have no idea how to go about purchasing these types of products. "I did a bit of research and thought this could work," she said.
The promotional material for NMJ says it is the "online tool to help find the right toy for you". As well as offering a wide range of products – from Butterflies to Rabbits and everything in between – it also has a handy quiz that will help women discover their ideal, er, tool.
Hmm, if only finding an ideal man was as easy as that – Jervis would be out of business.
Jervis also keeps a blog, under the NMJ pseudonym, as part of the website.
"Despite Australia being really easygoing, this area still has this taboo surrounding it," said Jervis. "I want to make it acceptable and not something to sort of hide; I don't want people to have to hide the [NMJ] bags away or anything like that."
Ambitious Jervis said she would love to grow the business and eventually make the move from online to the high street.
"I'd love to have the [NMJ] store, not down a dark alleyway or up some dodgy flight of stairs, but in a mainstream area," she added.
Jervis, who said she plans to continue practising law even if NMJ does take off further, admitted that balancing her two different careers is tough, but said because they're so different it makes it easier.
"It's not like I'm going home to do work that's similar to what I'm doing for 10 hours in the office every day," she said. "I can put music on; I can pour myself a glass of wine and sort of enjoy the process."