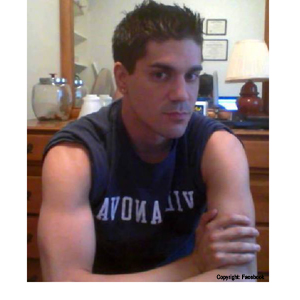 We all know the job market is tough for law grads at the moment, so one US graduate decided to make an addition to his CV to make it more attention grabbing...
Delaware law graduate Brian Zulberti told Delaware Online he was "two Red Bulls" into emailing every lawyer in the legal directory when he decided to add a picture – of himself showing off his "sculpted" arms in a 'muscle shirt' (right).
Hmm, Folklaw would question if there was vodka in that Red Bull; we don't think sculpted arms generally help much in a law firm office, apart from maybe making it easier for you to pick up the boxes of files young lawyers generally have to go through...
The sexy CV was picked up by law blog Above the Law and quickly went viral, with the story of Zulberti's unique approach to job searching being picked up by multiple media outlets.
However, whether this publicity proves to be good or bad for his job search remains to be seen.
The 30-year-old muscle-man, who graduated from Villanova Law School in 2009, was also on the receiving end of some internet derision for having a public Facebook profile that contains some interesting images, including numerous ones of the body-concious wannabe lawyer posing in his underwear.
One of the racy underwear shots, taken in a mirror, has Zulberti holding a sign over his face saying: "HIRE ME!!! no… as a Lawyer, … NOT A ESCORT… wait is it something I'm wearing."
Folklaw is pretty sure he meant "an escort", and we're not entirely sure if the sign is a good reflection on the law grad's drafting abilities.
Zulberti, who bears a resemblance to reality TV show star Pauly D, is taking all the publicity in his stride, telling Delaware Online: "I went from being a guy with no job to a guy with no job on TV."
"All I need is one job," Zulberti said, "[All the other employers] can hate my guts, if one hires me."
Very true, Folklaw reckons we'll either see Zulberti in court, or on a reality TV show, very soon...