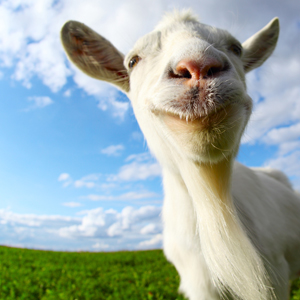 Gary the Goat has gotten himself into a spot of bother again...
Folklaw previously wrote about the trouble-attracting goat when he ended up in court in January after being accused of eating flowers outside the Museum of Contemporary Art in Sydney.
This time the goat ran afoul of council authorities in the NSW town of Broken Hill.
Gary's owner, comedian Jimbo Bazoobi (real name James Dezarnaulds), told ABC that his goat was tied up outside the Broken Hill library last Thursday (1 August) when council rangers led him away.
According to Bazoobi: "They basically said he was eating the roses and I said, 'Can you see the roses? They've been hack-sawed down to three little stumps about 3cm above the ground.' It's rose pruning season."
Bazoobi said he was then told he wasn't allowed to have a goat in the city, but he said when he asked the council officials where that rule was written they were unable to come up with anything.
Broken Hill City Council defended the rangers' actions, with general manager Therese Manns telling ABC that the animal posed a danger to schoolchildren who were in the area.
She added: "I would also not appreciate a goat eating the roses in my garden – why should the gardens of our beautiful city be any different?"
Bazoobi has made a formal complaint over the rangers' actions, which the council said would be investigated.
It all sounds a bit bleating ridiculous to us...
All publicity is good publicity though, Folklaw supposes, and Gary the Goat, who travels Australia with his comedian owner, really is a bit of a celebrity now, with his Facebook page having close to 15,000 likes.