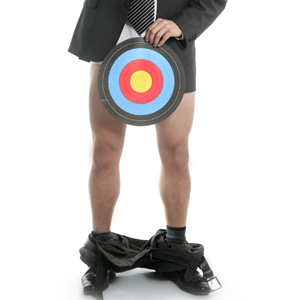 A British police officer who had sex while on duty has kept his job – because he claimed he had control of his weapon at all times...
Ahem...
The UK Telegraph reported Welsh police officer Shaun Jenkins (36) met the married woman while he was on duty, took her to a house where they had sex, while his patrol colleague waited outside for 40 minutes in the patrol car.
That's an effective use of police time...
The officer was originally disciplined for the incident, which took place in 2010, but was allowed keep his job, but he was subsequently sacked for misconduct after the husband of the woman complained.
However, Jenkins appealed successfully, saying the disciplinary procedure was mishandled.
An appeals panel also upheld his claim that he was always in reach of the pistol because it was in his holster, attached to his trousers, which were around his ankles.
Hmm, Folklaw might have its doubts about his ability to react in an emergency in those circumstances though...
The Independent Police Complaints Commission (IPCC) upheld his reinstatement on Monday (12 August), although the Telegraph reported it expressed surprise at the appeals panel's decision.
Tom Davies, the head of the IPCC in Wales, said he was bemused by some of the appeals panel's findings. "The finding that the gun was never out of Pc Jenkins' direct and immediate control because it was in a holster, attached to his trousers, which were attached to him, albeit around his ankles, is surprising.
"I am also bemused by the panel's conclusion that his conduct did not significantly downgrade the protection to the public because there was nothing to suggest he could not have been back in the police vehicle within a minute or two."
A minute or two? Jenkins must fancy himself as a fast mover...
Jenkins' weapon – his firearm – has been taken from him, as he is no longer on firearms duty, but the officer, who has been decorated for bravery three times, is back on duty as a neighbourhood policeman in south Wales.