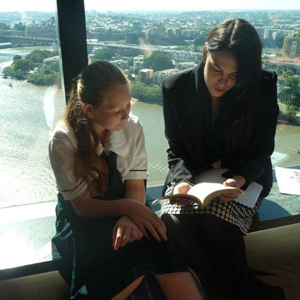 Doing pro bono work is not the only way lawyers can engage with the community, as Minter Ellison shows through its offices establishing partnerships with local high schools.
The firm's offices in Brisbane, Sydney, Perth, Melbourne, Canberra and Hong Kong have all established partnerships with local high schools as part of Minters' Community Investment Program (CIP). 
The CIP coordinator in Minters' Brisbane office, Robert Reed, explained to Lawyers Weekly that the partnerships were established when, through focus groups, the firm learnt that disadvantaged youth was one area the firm's staff would like its CIP work to focus on.
"So we decided in each state we would implement a partnership with a particular school."
The Brisbane office's partnership is with Glenala State High School, which is located in Inala, about an hour from Brisbane CBD.
"It's a very multicultural suburb; there are a lot of third-generation unemployed, single parents and it would be a quite low socio-economic area," explained Reed.
''The partnership arose out of our desire to work with Glenala as being a school with bright students and dedicated staff – and us trying to provide opportunities to the students that they might not have had otherwise."
The partnership started in 2007, with the firm initially funding breakfasts for students, but it has developed so that the firm is now involved in a number of projects with the school.
The firm was able to broaden its commitment to the school when the Australian Business and Community Network (ABCN), which provides structured mentoring programs between students and business professionals, became active in Queensland.
Minters takes part in a number of ABCN programs with Glenala students, including the Rise reading program for Year 8 students (Minters mentor and student taking part in Rise pictured above).
"ABCN had a program for primary school students," explained Reed,"But Minters and Glenala worked with ABCN to develop a mentoring program [for Year 8s] that would as such mirror the primary school program but add a few factors; so we piloted it here and it's now a national program that ABCN runs with a whole lot of businesses and schools."
The firm also takes part in the Aspirations program for Year 10s, which sees a senior associate facilitate workshops around self-confidence and preparing for life after school (workshop pictured left); Career Choice Day sees Year 10 and 11 students coming into the firm to get a taste of what it's like to work in a firm like Minters.
One of Minters' big commitments to the school is its scholarship program, which it set up after learning that often some of the brightest Year 10 students didn't return to complete Years 11 and 12.
"Year 10s can apply ... and up to four are chosen [to receive a scholarship]; we then pay their school fees, stationary fees, uniforms fees, for private tutors if necessary, through Years 11 and 12; and those students also come on work experience to Minters for two weeks each year," explained Reed.
"There's one student who I'm really proud of who we first met in Year 8 on the reading program," added Reed. "He became a scholarship student and did work experience and he is now studying law and keeping in touch with us."
Minters staff frequently attend events at the school, with Reed, who last year completed a 110km run to raise money and awareness for victims of domestic violence (pictured right after the run), having even attended the Year 12 formal a couple of times.
"A fair percentage of Minters would be involved in [the partnership] in some way; we even have senior partners participating as mentors ... it goes from that level all the way to office services, [so everyone] can get involved."