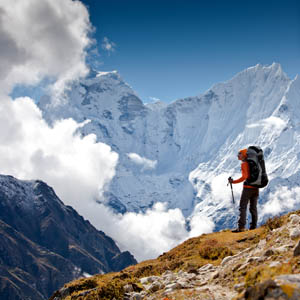 Trekking to Everast base camp is just one adventure trek in Nepal.
The home of the highest mountain in the world, Nepal is a vibrant mix of culture, spirituality, history and wildlife. Trekking in Nepal is one of the adrenaline seeking tourist's bucket list options. However if you have never been to Nepal before, before jumping straight into the adventure treks, start off at the capital of Kathmandu. While it might be bustling with lots of people and the ride there might reveal more than you want to see about one of the world's poorest countries, you will come away with one of the richest experiences of your life.
While there are many things to see and do, a trip to Nepal would not be complete without at least attempting an adventure trek. Virtually synonymous with the country's name, trekking is a traditional experience of Nepal, one every tourist must experience. Traverse between the small villages in the mountainous ranges and greet the people that come out and say hello. If you catch them at the right time of year you may be invited inside one of their houses for a celebration. Porters help carry equipment as there's a good chance you may not be used to the altitude or the strenuous exercise. It's not called a trek for any old reason. There are a wide range of treks available throughout Nepal, but why not try and get to the base camp of the highest mountain in the world, Mount Everast's base camp.
The Nepalese love to sing and dance so the last night of your trek might very well result in a sing-a-long and dance with your porters and guide.
If trekking isn't enough of an adventure for you, adrenaline junkies may also choose rafting, bungee jumping or canyon swinging, or maybe go on safari down south where Nepal borders India.
If Nepal sounds like your type of place where you can seek adventure, friendliness and the chance to experience something new, don't hesitate to get in contact with Himalayan Experience who can organise your trip to meet all your desires. Email them at www.himalayan-experience.net.