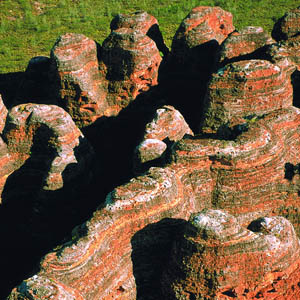 Looking for rest and relaxation? Head to the Kimberly Region in WA for the ultimate escape.
The Kimberly region of Western Australia is often regarded as one of the last remaining wilderness areas in the world. With its spectacular gorges, stunning waterfalls and broad landscapes, the Kimberly region would be the ultimate escape for those looking for a bit of rest and relaxation. The World-Heritage listed Bungle Bungle Range can be found here, along with many national parks and conservation areas.
While camping out at the Kimberly region is often the chosen way to experience the lush vegetation and sprawling landscapes, you will not regret a spectacular cruise down the coastline. There are numerous vessels with a wide range of accommodation and daily shore excursions to take in the sights on foot. Many of the ancient Aboriginal rock formations are only accessible by sea so in order to get the chance to explore more of the Kimberly region a cruise is the ultimate escape.
The Kimberly is home to a vast array of marine life as well, such as saltwater crocodiles, turtles, dugongs, dolphins and humpback whales, so keep your eyes peeled while on your cruise. Of course a trip to the Kimberly wouldn't be complete without fishing for the infamous Barramundi.
For those looking for a complete getaway escape there are places that are only accessible via a short flight. These flights will take you to remote places where you are the only person on the pristine beaches for hundreds of kilometres. The perfect opportunity for a bit of rest and relaxation away from the hustle and bustle of regular life.
Whatever style of holiday you are seeking in the Kimberley, be it a relaxing beachside break with the family, remote luxury lodge, intrepid 4WD adventure or cruising the rugged Kimberley coastline, the Kimberley can deliver on a grand scale.