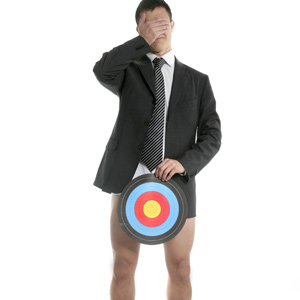 A US lawyer who asked a client to answer her front door to him naked has had his licence to practice suspended.
The Ohio Supreme Court suspended Chillicothe lawyer Ed Bunstine's licence for a year, with six months of the suspension stayed, after ruling that he attempted to solicit sex from a client, The Chillicothe Gazette reported.
The court upheld charges from the Board of Commissioners on Grievances and Discipline that Bunstine violated two rules of professional conduct — that a lawyer should not solicit or engage in sexual activity with a client, and that an attorney should not engage in conduct that reflects adversely on his fitness to practice.
The ruling arose after a complaint was made that Bunstine allegedly told a female client, who he was representing in a child custody matter in July 2010, that he could make "other arrangements" for her to pay his fee.
The woman said that Bunstine then told her he would come to her home and that she should answer the door naked, leading her to believe (not unreasonably in Folklaw's opinion) that he wanted to have sex with her.
The woman testified that she had been "disgusted" by the statement and left Bunstine's office, according to the Gazette.
 She said that when Bunstine called her about stopping by the house she said no, but Bunstine arrived 35 minutes later and was confronted by the woman's fiancé and her fiancé's father.
In his defence arguments, Bunstine argued that the woman was not his client, despite the fact that he had recently represented her, and alleged the woman had asked him to come to her home.
He also claimed he asked the woman if she would answer the door naked merely for the "purpose of hearing the response", and that it did not constitute an invitation for sex in exchange for legal counsel.
Right...
With arguments like that Folklaw is just glad to have never been represented by Bunstine in court, and is not surprised the court found his arguments were "belying any claims of truth".