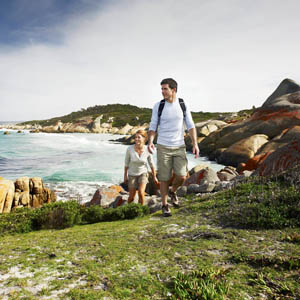 Whether your client likes adrenalin charging through their veins or a more sedate experience, Tasmania serves up a smorgasbord of outdoor pursuits_x000D_
HEART-PUMPING STUFF
Picture yourself at the top of a 150 metre high dam wall with a sheer vertical drop beneath you. And then picture yourself abseiling down it. The Gordon Dam abseil is, in fact, the world's highest commercial descent and not for the faint-hearted. Make no mistake, Tasmania is an adventure destination, with the ability to whet the appetite of even the most fearless traveller.
You'll find plenty of other such abseiling opportunities around the state too - like at Mount Wellington's Organ Pipes near Hobart, and at White Water Wall at Freycinet. You can even combine your abseiling experience with a bit of canyoning at Cradle Mountain, where Dove Canyon serves up an array of waterfalls, jumps, slides and abseils. Aardvark Adventures and Cradle Mountain Canyons are among the operators offering such thrills and spills.
For further exhilaration, head to western Tasmania's mighty Franklin River, which will challenge even the most seasoned of white water rafting enthusiasts. Located in the pristine wilderness of the Franklin-Gordon Wild Rivers National Park, this waterway may seem tame in parts but its more challenging section is anything but. Local operators include Franklin River Rafting and Water by Nature.
Another way of exploring Tasmania's rivers involves holding onto your seat for dear life, feeling the spray of water in your face and the wind in your hair. Skim through shallow water on the Derwent River near Hobart with Tasmanian Devil Jet, or take a spin down the Huon River in southern Tasmania with Huon River Jet Boats.
A FEW SMALL THRILLS
Even if you're not the most courageous of travellers, you can still enjoy some giddy moments of fun while staying within your comfort zone. Soar through the treetops for a doubly breathtaking experience - both the rush of adrenalin through the body and the stunning visuals of Tasmanian forest. Hollybanks Treetop Adventure, located close to Launceston, takes visitors for almost one kilometre above the forest canopy and the Piper River, stopping to admire the view on several tree platforms along the way.
Or go cable hang gliding over the state's southern forests and Huon River, taking in pristine Tasmanian wilderness. Eagle Hang Gliding takes visitors on a memorable 400 metre flight not once, but twice.
Back on the ground, have the ultimate all-terrain experience - exploring forest tracks, remote beaches or rolling sand dunes on a quad bike. Check out operators like All4adventure, which offers trips in Freycinet National Park, and Kookaburra Ridge Quad Bike Tours, with its bush adventures in north-eastern Tasmania.
KEEP IT TAME 
Kayaking is an experience that's both exhilarating and relaxing. And with Tasmania boasting more than 5400km of beautiful coastline, it's an ideal activity for the more sedate adventurer. Paddle through the waters of Hobart or glide through the crystal clear waters of Freycinet National Park, with local operators like Hobart Adventures and Freycinet Adventures.
Or explore the Apple Isle's wilderness and coastline from the comfort of a vehicle by hiring a 4WD. Plan your own expedition or travel with an experienced four-wheel-drive operator, such as Wilderness to West Coast Tours.
Of course, there's nothing wrong with exploring the place on your own two feet. In fact, there's something very right about it, with Tasmania's tracks and trails being world-renowned. There's a score of multi-day walks to choose from, whether you prefer guided or independent. Take in Cradle Mountain and a host of other scenery on the famous Overland Track, walk the coastal beaches of the Bay of Fires, or discover the remote wilderness of the Tarkine rainforest in the state's north-west.