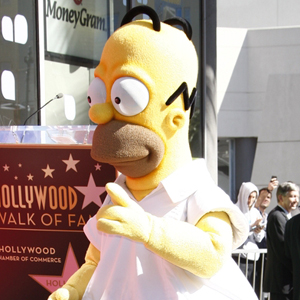 A struck-off Melbourne lawyer is in trouble again for creating five phoney identities in order to repeatedly claim the first-home owners' grant.
Folklaw remembers Anthony Robert Coleman from a story we wrote in May. At the time, the disgraced lawyer was facing nine months' jail and a fine of $13,000 for a string of charges, including illegally using the property of a law practice and failing to cooperate with the receiver of his former practice, Coleman Lawyers.
But that sentence pales in comparison to a more recent judgment, handed down in the Supreme Court of Victoria on Friday (25 October), in which Coleman was sentenced to five years' jail and ordered to pay more than $360,000 in compensation to victims of his illegal actions.
Coleman pleaded guilty to 12 counts of obtaining a financial advantage by deception after using the name of Homer Simpson's alter ego and four other aliases to obtain the first home owners' grant.
Homer Simpson (pictured) adopted the name Max Power, which he got off a hair dryer, in an episode of the irreverent animated series The Simpsons.
Coleman's other pseudonyms were Patrick Bateman, the name of the serial killer in American Psycho, Craig Young, Kylie Ann Moore and Robert Cole.
Folklaw is a little baffled by Coleman's gutsy choice of film and TV characters for his fake identities.
Last week's judgment also revealed that Coleman prepared six false applications for first home owners' grants; created three false bank accounts and a false credit card account, and falsified conveyancing documents, including contracts of sale and statutory declarations.
In addition to these charges, Coleman pleaded guilty to one count of theft and one count of having a deficiency in his trust account.
In 2002, following the death of his client, Eric Smith, Coleman stole more than $32,000 from his estate, which was meant to be dispersed among various charities.
Supreme Court Justice John Dixon said: "The degree of planning and calculation involved in this repeated conduct demonstrates significant culpability.
"This planned and premeditated conduct was facilitated by your position as a solicitor and involved a gross breach of trust of your oath and obligations as a solicitor on each occasion."
But what Folklaw wants to know is: what drove Coleman to become a calculated criminal?
Psychiatric reports tendered in evidence revealed that Coleman developed an admiration for some of his criminal clients who, Justice Dixon noted, "led lavish lifestyles and attracted the attention of women".
Folklaw is curious just how much money is needed to enjoy the kind of lifestyle Coleman desired. Surely a lawyer's salary buys a few luxury items...