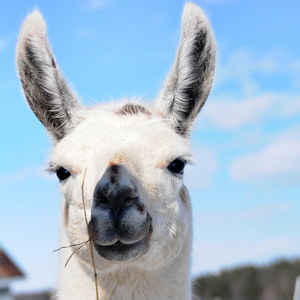 Some drunken revellers horsed about on a recent night out when they 'borrowed' a circus llama and took him for a tram ride.
Folklaw is not making this up; the llama-nappping happened last Thursday (31 October) in Bordeaux in southwest France.
According to the Huffington Post, the adventure began when five young men, departing a nightclub in the early hours of Thursday morning, having perhaps had a little too much fun celebrating Halloween, decided to stop by the local circus to play with the animals – as you do.
According to reports, they initially tried to coax a zebra to join them on their night out but the animal refused so they settled for Serge the llama, who is clearly a wild animal!
The fun-loving llama happily followed the group around town and even hopped on a tram with them.
Hmm, Folklaw has seen some strange things on the trams in Melbourne but never a party-loving llama...
However, the tram conductor didn't find the situation so amusing and asked the passengers to depart the tram.
The human party animals then left Serge in the care of tram workers until he could be returned to the circus.
Initially the director of the circus filed a complaint against the llama-nappers, leading to them being detained on Thursday afternoon; however, when the circus established Serge was unharmed the complaint was withdrawn.
The night out made headlines worldwide and caused a storm on social media, where a Facebook page in support of Serge's five party companions attracted 773,000 'likes'.