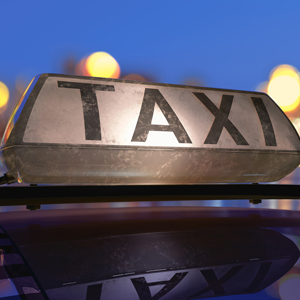 A woman in Northern Ireland made history earlier this week when she was committed for fraud while seated in a taxi in a courthouse car park.
District Judge Alan White, lawyers for the defence and prosecution, court security staff, administration staff and prison officers filed out to the car park of Antrim Magistrates' Court on Tuesday (12 November) to find the accused, 62-year-old Olga Hadassah Charlton, seated in the back of a cab, the Belfast Telegraph reported.
Not deterred by the chilly November morning, Judge White proceeded to oversee the Preliminary Hearing in the open air, while Charlton remained in the back of the cab.
Charlton, from Seacliff Road in Bangor, is accused of taking out a £40,000 loan in 2007 by falsely claiming she was suffering from a life-threatening illness, for which an operation was needed urgently; she had claimed she would repay the loan, with an interest rate of 10 per cent per month, after three months, the Telegraph reported.
She is further charged with converting criminal property, namely cash and bank drafts of £40,000, on dates between 10 December 2007 and 8 October 2010. 
In the car park, the prosecution lawyer submitted that there was a prima facie case against Charlton. Leaning in through the window a court clerk asked Charlton if she wished to call or give evidence herself but she declined to do so.
Judge White committed Charlton for trial at Antrim Crown Court on her own bail of £300 and ordered her to be arraigned next month.
The reason for the bizarre court setting was not revealed, and there was no mention of whether the next step of this trial will take place inside or outside the courthouse.
Folklaw imagines such working conditions on a regular basis would drive many lawyers to distraction...