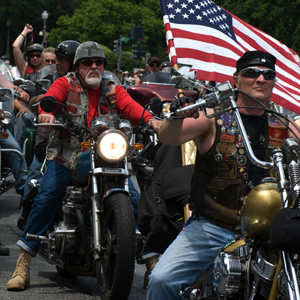 A lawyer representing a Biker for Christ was arrested in Las Vegas and is accusing the cops of unchristian behaviour.
Earlier this month, 36-year-old lawyer Stephen Stubbs was arrested on the charge of obstructing a police officer when he came to the aid of a client who is a motorcycle enthusiast. That client, affiliated with the Bikers for Christ motorcycle club, had been stopped by the LVPD for a number of alleged misdemeanours, including driving without a motorcycle endorsement on his licence.
Better call Stubbs!
When Stubbs arrived things escalated between him and the cops, to the point that he was arrested for obstructing officers trying to issue a ticket.
He was handcuffed and thrown in the slammer, but when he was released he invoked grainy memories of heroically crusading lawyers by telling reporters he was concerned that he was not there for his Biker for Christ client when he was being questioned by the cops.
"This was most definitely malicious," he told the Associated Press. "Since when is an attorney arrested for standing up for his client's Fifth Amendment right to counsel?"
To muddy these waters further, Stubbs is well known to the authorities via his counsel for a number of bikie gangs.
He is representing groups including the Bandidos, Mongols, Stray Cats and Vagos in a federal civil rights complaint against Las Vegas and other area police.
"I think there are larger issues here," he cryptically told Associated Press.
There sure are Stubbsy!
Invoking the legendary mantra of many a biker, including Clay Morrow from Sons of Anarchy, a show on Folklaw's dashboard, Stubbs, nominally a tax attorney, said that he characterises bikies as "members of fraternal organisations of motorcycle enthusiasts".
Queensland bikers need to get Stubbs down under.