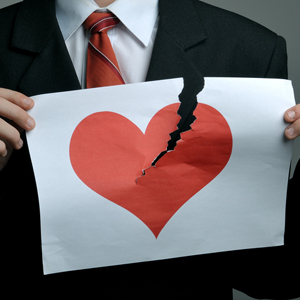 A Chinese official has become an international laughing stock – and lost his job – for drawing up a 'love-affair' contract that's not worth the paper it's written on.
According to the Sydney Morning-Herald, the six-clause contract, which was originally published by the Beijing News, sets out the ground rules for an affair between senior tax official Tao Yi and a married woman named only as Ms Fan.
The clauses stipulated there was to be no sex with third parties while the two were in a relationship; they were to meet once a week; any break-up must be announced in written form; if one of the parties does sleep with someone else there will be a one-off compensation payment of $1700 for mental damage; the woman will not interfere with the man's work or family or she will be punished accordingly, and the man will take care of the woman's living expenses.
The contract does not state if a change in Facebook status would constitute as written notification of a break-up, or what 'punishment' would be meted out to the woman if she interfered with her clearly charming other half's work or family.
A government spokesman told the Beijing News that Tao had been relieved of his duties and the matter is being investigated.
Sounds like he might need a lawyer...
In fact, perhaps Tao should have consulted a lawyer before he drew up the contract, which was written on A4 paper and dated March 2013, with a blogger on Chinese micro-blogging site Weibo pointing out that a 'love-affair contract' is not legally binding.
This is not the first time this year senior Chinese officials have been in trouble with the law; in August a group of Shanghai judges got in trouble after they were caught cavorting with sex workers.