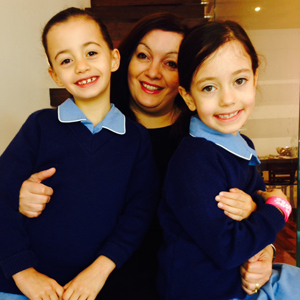 Emilia Teti is a senior lawyer with more than 15 years experience. Seven years ago she took time out from the Victorian public service to have her twin girls. She shares her story about how she re-connected with the law.
Emilia Teti is a senior lawyer with more than 15 years experience.  Seven years ago she took time out from the Victorian public service to have her twin girls. She shares her story about how she re-connected with the law.
In 1994 I was admitted to practise and worked my way up through the legal profession.  By the time I was ready to start a family I had been practising law for twelve years.  I had a very senior role in the Victorian public service where I was managing a team of 17 lawyers. 
It was really hard to make the decision to take the time out to start a family.  Having worked so hard for so many years, it wasn't easy letting go of all that I had achieved.  I was worried about how I would get back into law at the same level I had left.  Long hours, early meetings, deadlines -  how could I ever take on another senior position at the same level I had left at and juggle family life?
It really was a case of now or never, so I took the leap.  I decided I would take one year out after the baby was born and then go back full time to ensure I could continue to practise. Of course nothing ever works out as planned.  I fell pregnant with twins and had a difficult pregnancy. Owing to complications, my twin girls were born premature and so one year off turned into four. 
I couldn't leave my girls and wanted to be home and spend the time with them.  I was in my mid thirties when I became pregnant and it was important to me to enjoy being a mother without falling down the career ladder.  Finally, when the twins were ready to start school, I felt I was ready to consider my work options. 
It was quite daunting at first looking at the positions available, particularly in litigation.  Most senior legal positions are full-time and I wanted part-time hours so I could manage to fit in the school drop-off and pick up and be there for the girls at the end of their busy school day.  
Getting the job on my terms
As a defendant personal injury lawyer, I had had frequent dealings with Nowicki Carbone over the years.  I ran matters against them in Court and frequently attended their office to participate in settlement conferences.  I was aware that they were recruiting and so I approached them to see if they had any part-time work available for someone at my level.
I told them I had two young children and could only work part-time hours.  I was surprised when they told me they were happy to provide me with a flexible work arrangement.  After seeing so many full-time positions advertised, it was a breath of fresh air.
I commenced working two days a week, four hours a day, enabling me to drop off and pick up the children from three-year-old kindergarten.  Not only did this allow me to be home with the children it provided a re-introduction to the workforce and an opportunity to familiarise myself with the developments in the law after such a long break.  As the children progressed to four year old kindergarten, I took on another four hour day.   
After two years in this role, I was asked to open up Nowicki Carbone's Dandenong branch office as a senior manager – again in a part time role.  I opened the office on 1 July 2012.  The role is shared with another senior lawyer so as to co-manage the branch and make joint decisions.  Nowicki Carbone gave me the resources, a portfolio of files and two good assistants.  Since opening, we are now a team of five, with plans to further expand.
Since July 2013 I work four days a week.  On Mondays, Tuesdays and Thursdays I work from 9.30am - 2.30pm, to fit around school drop-off and pick-up times.  I drive from my home in St Kilda to drop off the children at school in Toorak, then forty minutes to work in Dandenong and then in reverse at 2.30pm to collect the children from school.  It's a lot of driving but it's all part of the juggle.  On Wednesdays I work a longer day from 9.30am - 5.00pm, enabling me to participate in firm meetings. 
I take Fridays off so I can go to school assemblies and after-school activities.  I manage all my client appointments around the times I am in the office and it works very well.
Without doubt I have to be completely organised.  The emphasis is on me to make it work both for myself and for the company.  My years of experience pays off in this regard as I can work quickly and efficiently to get the job done in time and still get home to spend quality time with my family. 
It pays to be flexible too.  Sometimes I get the twins to bed and then I'll finish up my working day on the laptop.
Ultimately, my role is a job share situation that gives me the best of both worlds.  It works well around school drop-off/pick-up times and allows me to be there for my children while they are young whilst keeping abreast of changes in law practise so I can pick up the pace when the children are older if I choose.  It means I continue to have valuable currency in the competitive legal jobs market and legitimacy when dealing with and speaking to clients.
By being given such a flexible working arrangement, I have re-discovered my passion for law and my self confidence.  Nowicki Carbone has been fantastically supportive. The company is flexible – it's a great work-life balance for me whilst the children are so small. 
Emilia Teti (pictured with her twins) is the co-branch manager at Nowicki Carbone, Dandenong