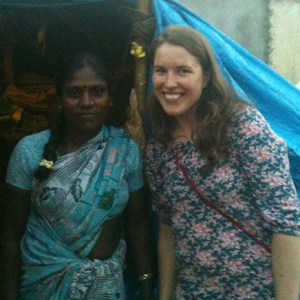 Minter Ellison's Althea Hartley has swapped Christmas shopping to tackle a whole new challenge in India.
Minter Ellison's Althea Hartley has swapped Christmas shopping to tackle a whole new challenge in India.
While my friends and family are spending their December doing Christmas shopping and planning Christmas Day festivities, I'll be spending my December in Bangalore, India, taking part in a fellowship with Pollinate Energy providing slum communities with access to clean energy.
Globally, 1.3 billion people live without access to electricity.  Nearly 300 million of them are in India – almost one-quarter of India's entire population – and most of the families living in the urban slums rely on kerosene lamps for light.
Burning kerosene, particularly in poorly ventilated tent homes, creates significant indoor air pollution, which in turn contributes to respiratory diseases among slum inhabitants. 
Kerosene is an intense emitter of CO2.   For every litre of kerosene burnt approximately 2.5 kilograms of CO2 is produced.
And kerosene is also expensive.  In India, some families spend up to a one-fifth of their income on this fuel each week. 
Pollinate Energy is a not-for-profit dedicated to bringing clean energy solutions to India's urban poor. The organisation was started in 2012 by a group of young Australians from economics, engineering and law backgrounds.
Currently operating in Bangalore, but with plans to expand to Hyderabad and Chennai in 2014, Pollinate Energy provides urban slum communities with access to solar lights to replace their kerosene lamps.
Families are given access to microfinance plans to pay off the capital cost of the solar light using money they would otherwise spend on kerosene.  These families then have a clean, renewable and – importantly – free power source to light their homes.   
To date, Pollinate Energy has installed 2,500 solar systems and saved 120,000 kilograms of CO2 from being emitted into the atmosphere. 
So, what motivated me to apply for a Pollinate Energy Fellowship to spend a month in India?
I graduated in 2010 with a combined degree in engineering (civil) and law from the University of Melbourne.  For the past three years I've been part of Minter Ellison's Construction, Engineering and Infrastructure team, working on some of Victoria's major infrastructure projects, including the Port of Melbourne's A$1.6 billion Port Capacity Project and the A$400 million Southern Precinct Project at Melbourne Airport. 
I have also had the opportunity to work on some renewable energy projects – like the 20MW Royalla Solar Farm in the ACT.  When completed in 2014, Royalla will be the largest photovoltaic solar farm built in Australia to date. 
I have thoroughly enjoyed being involved in these projects, which provide both a great cross-over between my legal and engineering skills and also produce sustainable alternatives for our energy use. 
Whether in Australia or India, finding sustainable energy solutions is vital for our communities, and renewable energy has an important role to play in meeting future energy demands. 
With some of the world's best wind, solar and geothermal resources, Australia has great potential for renewable energy development.  Initiatives like the Renewable Energy Target scheme, which aims to have 20 per cent of Australia's electricity from renewable sources by 2020,  are helping to drive our renewable energy sector.
In India, Pollinate Energy's solar light initiative is a great example of how renewable energy can effectively achieve both economic and environmental solutions. 
My role during my fellowship in Bangalore will be to train a local entrepreneur (called a "pollinator") to start their own business selling and servicing solar lights in the slum communities.  I will also work with the other fellows to develop new business lines, such as fuel-efficient cook stoves and water sanitation products. 
I hope that my legal skills, especially in relation to team-work, project delivery and problem solving, will be useful throughout the fellowship.  Moreover, I'm sure that the skills I develop during my month in India – like learning to overcome cross-cultural and linguistic barriers and working on a start-up business – will be assets in my future professional development.
Beyond all that, I'll be helping to ensure a better life and a better future for some amongst India's poor.  And I have no doubt that Christmas in India will be a unique experience too.
For more information see: www.pollinateenergy.org
Althea Hartley is a construction lawyer with Minter Ellison in Melbourne