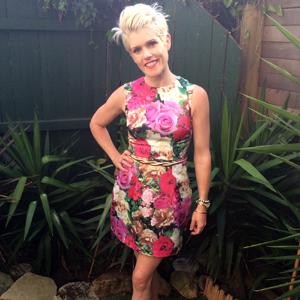 A Sydney solicitor was booted from the queue to the SCG Members Reserve over the length of her dress, a rule that a few well-known cricket-goers have skirted.
Lynda Reid (pictured in the controversial dress), a lawyer at corporate firm Watson Mangioni, told Lawyers Weekly she genuinely believed the floral number she wore on Day 2 of the recent Ashes match in Sydney adhered to the SCG members' dress code, which states that skirts and dresses must be of "a respectable length".
A steward at the gate disagreed and denied Reid entry to the Ladies Stand.
Reid has since cancelled her SCG membership, which she held for 25 years prior to the incident. She explained, however, that she isn't making a stand against what is arguably one of the most conservative institutions in Australian sport.
"The club is entitled to make its own rules, the problem is that they're not clear in what they deem to be acceptable and ... are selective and arbitrary in their enforcement," she said.
Folklaw is inclined to agree that stewards can be selective in who they target after spying a few daring outfits in the Members Pavilion. This section is subject to even stricter regulations than the Ladies Stand and prohibits women from wearing a dress or skirt above knee length.
The day after Reid's ejection, on Jane McGrath Day, a number of WAGs were photographed in the Members Pavilion with hemlines that were clearly several inches above the knee. Folklaw wonders whether any steward would have evicted the likes of Shane Watson's wife Lee Furlong or David Warner's girlfriend and ironwoman Candice Falzon.
Double standards aside, Reid's challenge to the club's antiquated traditions is being supported by women of all ages, including two elderly women who told the mother of two that the infamous dress was suitable for church, let alone the cricket.
"It's rather amusing the SCG has taken a more hardline stance than churchgoing pensioners," said Reid.
"[The SCG] doesn't seem to be in touch with modern-day ideas of what is respectable or appropriate," she added.
Reid wrote to the SCG Trust expressing her disappointment and asked that her SCG membership be cancelled, her yearly fees refunded, and her two children be removed from the waiting list for membership.
The Trust has complied with her requests but has not apologised for the incident.
Reid's father, however, received an apology when he raised the issue with the SCG's administration desk.
Reid said the Trust's handling of the incident has reassured her that she made the right decision in leaving the club. She added that she won't miss paying $977 each year for "the dubious honour and privilege" of queuing at Moore Park five hours before the start of play in order to access the members' stands.
Reid had been in line since 5.30am on the day she was refused entry.
"If that is seen to be a privilege ... then perhaps they have a different idea of that than I do."
The lawyer has one regret, however. She was quoted in the Sydney Morning Herald as saying: "'I am a corporate solicitor ... I know what is appropriate and not. I am not some hick from wherever'".
Reid told Lawyers Weekly that the comment was made tongue in cheek and was intended to convey that, as a member of the legal profession, she is familiar with conservative dress codes.
"I could obviously have chosen my words more carefully ... a lesson learned in media training, the hard way," she said.
"I'll take it on the chin, with good humour."