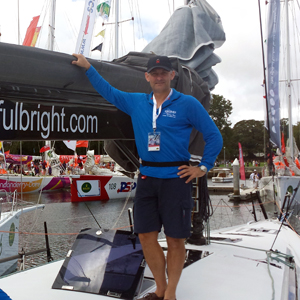 A global law firm partner has swapped the lack of sleep from legal life to pull all-nighters battling 140 km winds.
Folklaw caught up with Sydney-based Norton Rose Fulbright partner Rob Buchanan (pictured) recently to talk about his fourth Sydney to Hobart voyage in December.
Folklaw loves boats as long as they are well stocked with cold drinks, sunscreen and life vests, with the sailing stuff done by guys with beards or women with scarves around their necks.
The usually clean-shaven Buchanan, however, is the real deal, being the navigator on the 50-foot vessel Kerumba and helping it glide over the line to a sixth position in the handicap section.
Despite a glorious Sydney morning heralding the start of the race on Boxing Day, things started to get a wee-bit hairy as the boats headed south from Eden.
"Dealing with winds that strong, you can't stand up on the deck, and the boat is bucking around everywhere and is invariably leaning over at crazy angles. It is very difficult to make the thing sail properly," he said.
While Folklaw would be seeking to hide below deck in such conditions, it is when the seas are up and the wind is blowing through your hair that gets Buchanan excited.
"The real seamanship comes in when you get those sort of conditions, and it is just a case of making sure you have the right sails up, and those sails being bloody small ones, and being pointed in the right direction, which is roughly my job," he adds in his unmistakable Portsmouth accent, with Buchanan swapping the Pompey chimes for Sydney around seven years ago.
After all was said and done, Kerumba made it to Hobart in a tick over three days and three hours, placing it 19th overall and a creditable sixth on handicap.
Buchanan took only short 'cat naps' over that time, getting about nine hours sleep over the 75 hours it took Kerumba to complete the course.
"We were all quite tired, but there was an enormous amount of adrenaline over the last 12 hours when we knew were going as well as we were."
Folklaw takes its hat off to you Rob and hopes you got some zeds after the race and before getting back on deck on the global law firm ship.