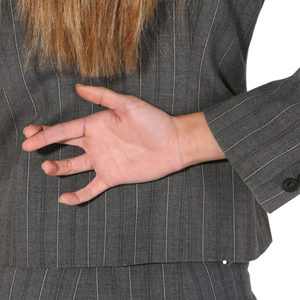 A West Australian woman claiming to be a lawyer for a justice organisation has been jailed for three-and-a-half years after defrauding more than $65,000 from good-natured victims.
In doing so she has committed two cardinal sins in Folklaw's book: shamelessly preying upon the impressionable and taking potential work away from hardworking lawyers.
Lisa Marie Burch was sentenced in the Perth District Court last Friday for 29 dishonesty charges including fraud causing a detriment, fraudulent falsification of records and fabricating evidence with intent to mislead, AAP reports.
Burch's life of deception was truly up there with the great con artists. In one case from December 2012 she pretended to be involved with 'John Button's Innocence Project WA', a legitimate organisation. She conned people into depositing money into her bank account by pretending the money would cover legal fees that would help prove the innocence of family or friends.
Burch created fraudulent documents in the name of the project and falsely signed legal documents, receiving almost $29,000 from the scheme.
In another case from November 2012, Burch claimed to be a lawyer acting for people in family court matters using a falsified law firm document and pocketing more than $34,000.
In a third case from last June, Burch pretended to be a family court lawyer for a victim who had moved from Sydney to Perth and received $2700 from the woman.
But wait, it gets worse…
Burch's life of fraud includes faking vaginal cancer – even shaving her head and telling her own children she was dying. Yep, her children.
Under the name Lisa Marie Mackay, she forged hospital reports to raise funds for special cancer treatment and received donations after publicising her fake plight in the media, for which she was was sentenced to 28 months in prison.
For once, Folklaw is lost for words.