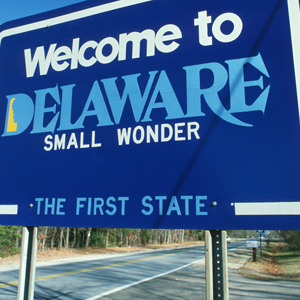 A lawyer was given a $400-an-hour contract in Delaware despite not having an office in that state and being suspended from practice in another.
The News Journal reports that Wilmington, Delaware, City Council President Theo Gregory hired Calvin Harmon to help the council in its fight against Mayor Dennis Williams.
However, there was a problem, as Harmon was suspended from practicing in Pennsylvania and to fulfil his new role in Delaware, he needed to have an office in that state.
Mayor Williams had previously decided that a proposed $250,000 allocation for grants was in fact a slush fund for council members, so he took the council to court to stop Gregory from cancelling a special budget meeting.
Lawyer Harmon, whom Gregory hired, lives in Wilmington, Delaware, and uses a mail drop address for his registration with the Delaware Supreme Court. The court's rules say lawyers filing documents with the court must have an "a bona fide office" in the state.
Folklaw thinks would rule out a mail-drop address, especially because the rule specifically says the office must be "more than a mail drop."
But Harmon disagrees. He argues he's allowed to practice law in Delaware because the rule only applies to lawyers who have pending cases with a state court.
However, Harmon admits that he DID appear twice in a Delaware court last year after he was hired by Gregory, but says he was not in violation of the Supreme Court office rule because he used Gregory's address. Harmon also used Gregory's address in other Delaware Chancery Court cases, court records show.
Harmon received $29,364 for city legal services last year.
Harmon says his law office is in Philadelphia. But records from the Disciplinary Board of the Supreme Court of Pennsylvania show he has been suspended from practice in Pennsylvania since September 2010. The suspension was due to his failure to pay an annual attorney fee of $200, according to information provided by the board.
Surely he can stump up the cash to pay this $200 fee?
Pennsylvania Supreme Court rules say attorneys can't maintain an office in the state while on suspension.
Ingeniously, perhaps, Harmon argues that his Philadelphia office is the location of his investment banking business, NOT a law firm. He said 95 per cent of his working hours are dedicated to legal and financial activities for this business.
"The only time I'm in court is when somebody asks me for a favour," said Harmon. "Theo's a friend."
City Council President Gregory said in a written statement that neither he nor his staff were aware of the type of office Harmon maintained when he received the city legal business. He said said all meetings and discussions with Harmon during the budget talks occurred over the phone or at the Wilmington City Council offices.
At the very least, Harmon has certainly embraced the idea of the virtual office…