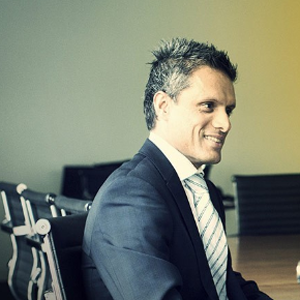 Kaizad Kasad is running marathons in events such as 'Australia for UNHCR's Run for Refugees' in a bid to raise money for and awareness about men, women and children whom some are all too ready to demonise.
Kaizad Kasad is running marathons in events such as 'Australia for UNHCR's Run for Refugees' in a bid to raise money for and awareness about men, women and children whom some are all too ready to demonise.
I am an immigrant – an economic one but an immigrant nonetheless. I was lucky to be invited to this wonderful country and I'd like to believe I have made a relative success of myself by taking the opportunities presented to me.
A dear friend remarked recently, "Life is a lottery and where you're born is like winning the jackpot". I'd like to put that to those who cannot understand why others risk life and limb to get to a better place for themselves and their families, so many of them young children. They aren't so lucky.
I am also a runner, but I wasn't always a one. Indeed, I represented my school and university in football (soccer, if you must) – surprising to many who think cricket would be in my blood given where I originate from (I was born in India). Running though was restricted to the annual school athletics meet in which I generally ran the longer distances. Back then a long distance event meant the 1500 metres.
Running
My running journey began in 1999 when my good colleague, Stephen told me one day: "Get your runners in tomorrow; we're going for a run". Thank you mate for starting me on a journey which I have loved and dare I say it, now can't live without.
Stephen's intention to get me to run the Sydney Olympics marathon course, however, failed due to my over-enthusiasm (I tore both my quadriceps muscles by doubling the distance I was running overnight and running in basketball shoes. I learnt lesson number one in running: don't do too much too soon).
And while I have had time off running since 2000 due to various niggles and muscle tears, I have now run:
·                     countless fun runs ranging from 5 kms (JP Morgan Chase Corporate Challenges, Colour Run) to 10 kms (Run4Fun, the Mini-Mos, and suburban fun runs on Sydney's North Shore);
·                     every City to Surf since 2003 and its sister event in Melbourne in 2012;
·                     nine half-marathons across Australia; and
·                     three marathons, one of which was in Chicago last year.
I am due to run my fourth marathon in Paris on 6 April. This will be my third marathon in eight months; strangely, it was five years between my first and second marathons. Much like having babies, a marathon mum once told me.
Training
As you'd expect, training for a marathon requires quite a bit of commitment – both in terms of time and effort. I usually run four times a week which is a combination of easy runs, speed and hills training, "tempo" runs and the mandatory "long run" over the weekend. On weekdays I generally train after work.
Work commitments mean it can sometimes be challenging to leave the office and join my running club mates in time for training. Indeed sometimes I've needed all my willpower to head out for training after a long day at work. But, as I've found out, running is just the tonic for such days.
The months leading up to the Chicago marathon were probably the busiest I can remember! I was out of contract from my previous job, was travelling extensively between Sydney and Melbourne to interview with Moores, inspecting places to live and moving homes while also training for the marathon.
Fundraising and running
To help the less fortunate was something that was instilled in me and my siblings by our parents from a very young age. Indeed we grew up witnessing the acts of philanthropy enacted by our parents. And once we started working, we gave a portion of our salaries to our father to donate to an organisation or individual he deemed worthy of assistance.
I started to combine my twin passions of running and fundraising when I registered for my first marathon in 2008 as part of CanToo – a program which provides professional coaching as part of a team to run a marathon in return for participants raising sponsorship dollars to fund Australian scientists working in cancer research through Cure Cancer Australia.
Thanks to them I have continued this journey and have now raised close to $10,000 for Cure Cancer Australia and  various other charities; namely, the Fred Hollows Foundation, the 40K Foundation and my charity of choice right now, Australia for UNHCR.
In 2013, I became a regular UNHCR donor after speaking with a couple of volunteers in my local area in Sydney. They were refugees. Now my friends and family expect to receive a fundraising email when I register for a race. However, last year was a little different. I was due to run my first overseas marathon and I wanted this event in particular to be the focus of all my fundraising for the year.
So despite running two half-marathons and the Brisbane marathon, I left my appeal until just before the Chicago race, for a cause I've been passionate about for some time. The Australia for UNHCR's Run for Refugees program gave me the perfect cause to champion.
Politicians and the plight of refugees
For years I have observed the apathy and indifference of successive Australian governments towards asylum seekers and refugees – towards desperate people fleeing homelands ridden with war and strife seeking a better life on our shores
There are countries 10 times poorer than ours with a refugee intake of millions. So it's appalling that the current government is planning on reducing our annual refugee intake from 20,000 to 14,000!  Equally grating is the language employed by our politicians: "illegal immigrants" and (ugh!) "boat people". The former is factually incorrect and the latter, what does it even mean? A species different from our own?
Last month I was at Federation Square in Melbourne, one of thousands who turned up all over Australia for a candlelight vigil as a mark of respect to 23-year old Reza Barati who was so tragically killed at Manus Island.
I was delighted to see Australians sending a strong message to the office bearers of our land to stop playing politics with human lives and to shut down Manus Island and other detention centres immediately. How anyone can justify locking up seven- and eight-year-olds is beyond belief?
I have always maintained that it is unfortunate that the big issues such as asylum seeker policy gets bipartisan support from our two major political parties. We really are left to choose the lesser of two evils every three years.
All too often we are guilty of sweeping through news that does not affect us. Indeed our media seems to provide more coverage on the treatment of cattle than refugees. By running the Paris marathon for the UNHCR, it is my hope to raise awareness of the plight of our fellow human beings – desperate people undertaking desperate journeys, seeking a better and safer life for their families, most importantly for their children.
If by running marathons I can increase awareness of the plight of refugees and asylum seekers while also raising funds for an organisation such as Australia for UNHCR, I would consider having achieved my objective.
Kaizad Kasad (pictured) is the business and pricing manager at Melbourne firm Moores. He has also worked at Corrs Chambers Westgarth, Ashurst and Baker & McKenzie.
You can donate to his fundraising page here