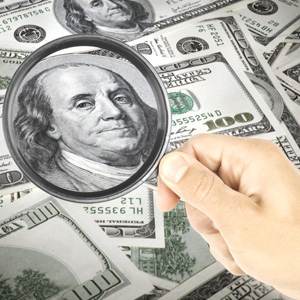 Police in Phuket have arrested a Thai lawyer in possession of US$4.8 million in counterfeit US$10,000 notes that he was planning to exchange for Thai baht.
Phuket News reports that Tourist Police received a tip-off from staff of an exchange booth who said they had received a call from a man saying he wanted to quietly exchange some money.
The suspicious booth staff arranged to meet the man with the money, 39-year-old lawyer Wachirawich "Geng" Janejarernchaisin. (Let's just call him 'Geng', shall we?)
The booth staff then called the police, who sent undercover officers along to the meeting. After inspecting the US$10,000 note, the exchange staff said they could not change the money immediately, but made an appointment to meet Geng at a coffee shop in Phuket the following day.
When police arrived and identified themselves mid-meeting the next day, they found Geng had 482 of the US$10,000 notes in his possession, all of which he intended to exchange. So they arrested him.
Tourist Police said its officers knew straight away that the money was fake.
However, there were a couple of other clues that might have alerted our Phuket Poirots. After the arrest, the notes were examined more closely and police discovered a spelling error. Where it should have read on one part of the note "San Francisco", it actually read "Nan Prancisco".
US Embassy experts examined a sample and declared it to be fake. (No flies on the crack currency forensic team at the US Embassy either, are there?)
Pol Col Supaset Chokchai, Deputy Superintendent of Tourist Police, also highlighted another interesting piece of evidence.
"Usually, US$10,000 notes are used only between banks. This is the first time we have come across counterfeiting of this kind of note."
In fact, according to a recent Time magazine online article, the last time a US$10,000 note was printed was in 1934. The notes are no longer legal tender, although genuine ones are valuable and worth considerably more to collectors than their face value.
Nevertheless, Folklaw's considered opinion is: Kids, don't Thai this at home.