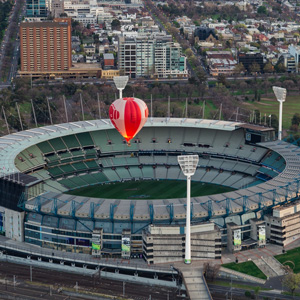 A 78-year-old Sydney criminal law specialist has been allegedly caught using the identity of a dead client to get into the Members Reserve at the Melbourne Cricket Ground.
The Sydney Morning Herald reports that Denis Manning Anderson, who was escorted from the stadium during last year's AFL grand final, could be struck off the roll of solicitors.
Following a tip-off, security officers intercepted him using the membership card of Michael Alfred Starkey, who died almost 15 years earlier.
Anderson may have been using Starkey's membership to enter the exclusive area to watch the grand final for several years running, according to Fairfax Media.
It is proverbially easier, thinks Folklaw, for a camel to pass through the eye of a needle than it is for an ordinary mortal to gain membership of the Melbourne Cricket Club (MCC).
For starters, there are about 233,000 people on the waiting list.
The top tier – the 'full memberships' – is so tightly controlled that people who finally got their hands on a card in 2013-14 had joined the waiting list between July and December 1989. Passes are not transferable, even on death. It costs $110 to join the waiting list, plus a $900 entrance fee and yearly subscription fees of up to $625.
MCC spokesman Shane Brown said Starkey's annual membership fees were paid each year following his death in 1997.
The club referred Anderson to the NSW Legal Services Commissioner, which has the power to seek disciplinary action in the NSW Civil and Administrative Tribunal.
Anderson, 78-not-out, so to speak, was admitted to the bar 53 years ago.
Folklaw feels a measure of sympathy for the old gentleman who now finds himself on a sticky wicket at the MCC. However Folklaw considers Anderson has had a good innings over the years allegedly inveigling himself into the members' inner sanctum, and thinks it is high time he pulled up stumps, picked up his cricket bat and went home – hopefully before Folklaw runs out of cricketing clichés.