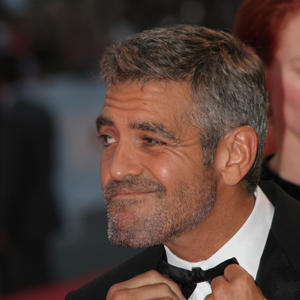 High-achieving human rights lawyer Amal Alamuddin has taken her humanitarian work to another level.
In an act of charity that's on par with the Pitt-Jolie crew, Alamuddin has done a solid for silver-haired silver screen star turned coffee spruiker, George Clooney and answered in the affirmative on a proposal of marriage.
Alamuddin, whose counsel has been sought by the likes of former UN secretary general Kofi Annan, WikiLeaks founder Julian Assange and former PM of Ukraine Yulia Tymoshenko, allegedly accepted 53-year-old Clooney's plea over a home cooked dinner.
Upon learning of the engagement, Folklaw did some sleuthing to find out how an ageing actor managed to nab the legal adviser to the King of Bahrain who was also bestowed with the title of "London's hottest barrister" by a UK legal blog.
Folklaw discovered coffee connoisseur Clooney has dabbled in the humanitarian sector himself, serving as a United Nations Messenger of Peace since 2008 and adding value to a career that has often focused on promoting the perpetual bachelor status.
Perhaps it was this foray away from the routine womanising that caught Alamuddin's eye.
Frankly Folklaw had dozed off on all things silver fox except for that time he popped up as the voice of Mr Fox in Fantastic Mr Fox.
In a movie-like ending, the lowly actor is swept up by the unattainably attractive and high-achieving Alamuddin.
Clooney's own Cinderella story is possibly his best cinematic feat, in addition to Fantastic Mr Fox.
As for Alamuddin, her humanitarian work seems to know no bounds, and by taking Clooney under her wing, she has obviously extended her work into her private life…