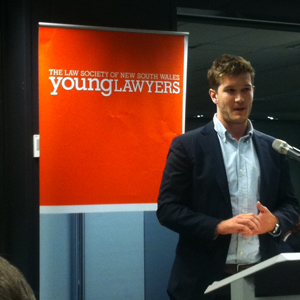 The good looks (or lack thereof) of lawyers was the subject this year's Workplace Debate, writes Rana Halabi.
The good looks (or lack thereof) of lawyers was the subject this year's Workplace Debate, writes Rana Halabi.
Q: What do you get when you ask her Honour Justice Julie Ward of the Supreme Court of NSW Court of Appeal to adjudicate a debate about appearance in the workplace?
A: Plum-coloured pumps with diamante dolla-dolla signs on them, y'all.
The NSW Young Lawyers' Workplace and Safety Law Committee's annual Workplace Debate, hosted by DLA Piper, attracted more than 110 people from across the profession. Young (and older) lawyers, barristers, students, in-house counsel and other members of the community came out in force to watch two teams – each made up of a solicitor, a barrister, a student and a 'wild-card' – battle it out over the controversial topic: The Wolf of Phillip Street – In the workplace, appearance matters most.
On the affirmative side of the debate were James Foley, solicitor at Gadens; Petros Macarounas, barrister at Frederick Jordan Chambers; Edward Miller, student at the University of Sydney, and Hamish Sinclair, legal officer at NSW Planning & Infrastructure. Opposing them on the negative side were Irina Kolodizner, solicitor at HWL Ebsworth; Callan O'Neill, barrister at 12 Wentworth Selborne Chambers; Jack Oakley, student at Macquarie University, and Grant McAvaney, senior lawyer at ABC.
Hamish Sinclair opened the debate, and the affirmative team's case, with great poise and style, pointing to several examples highlighting that beautiful people succeed in all workplaces, especially the law. Indeed, if appearances weren't the most important thing, wouldn't we all forsake the barbells for books in an effort to make ourselves smarter rather than sexier?
Jack Oakley began the negative team's case by introducing their central theme – appearances can be deceiving. Armed with exhibits and unrestrained by the rules of evidence, Jack proved his point by skilfully assassinating the character of each individual affirmative team member, thanks to some clever social media stalking.
Edward Miller (pictured right) came out swinging in defence of his teammates, and observed that we are all slaves to advertising – and all advertisements, even the Dove 'real beauty' campaign, prioritise appearance over everything else. Ed appeared to be gaining ground, until some comments about middle-aged women in cosmetic commercials found him on the wrong side of her Honour (despite Justice Ward's audible laughter during the joke's delivery).
Grant McAvaney retaliated by taking some well-aimed shots at his opposition, but not before noting that any graduate with a glamour photo on their resume gets put in a 'do not hire' pile (note: good advice for any lawyer).
In response, James Foley demonstrated that at all levels of the law – graduate (Porky Pig ties won't get you far), partnership (cue the scotch tastings and quail hunts) or the NSW Bar (those black-robed, white-wigged, pansexual evil wizards) – appearance mattered most in ensuring success. The legal world ran on form over substance, and we would all do well to face up to it.
Callan O'Neill returned by noting that every speaker on the affirmative team was unattractive, then pulled out an iPad to display a YouTube video of the fourth affirmative speaker, Petros Macarounas, renewing his vows in Las Vegas dressed as Elvis Presley. The whole crowd, with the notable exception of Petros, was reduced to fits of laughter.
Petros Macarounas opened and closed by returning fire at Callan O'Neill. He drew attention to several superficial embellishments (to put it at its mildest) in each of the negative speakers' LinkedIn profiles (a paralegal "drafting submissions"… classic), thus exposing the negative team for the shallow hypocrites they truly were.
But the affirmative team's joy was short-lived. Irina Kolodizner's rebuttal noted that substance matters most in the legal profession, and anyone who said otherwise was deluded. She said this while staring directly at the affirmative team. From the looks on the affirmative speakers' faces, it was a message as personally hurtful as it was soon to be painfully accurate.
After the Committee raffled off a series of prizes from the event's sponsors, Justice Ward, with her signature flair, brought the evening to a close. Her Honour noted that while adjudicating was always a tough job, deciding the winner of this year's Workplace Debate was especially tricky; neither team seemed remotely interested in addressing the topic, but rather appeared bent on the exceedingly comedic character assassination that aptly characterised such events.
Her Honour awarded the debate to the negative team (Jack Oakley, Grant McAvaney, Callan O'Neill and Irina Kolodizner), and named James Foley as the Best Overall Speaker. Callan O'Neill won the People's Choice Award (and has a pretty DLA Piper umbrella to show for it).
The evening was a resounding success, with all money raised donated to the NSW Young Lawyers' Charity of the Year, the Indigenous Literacy Foundation.  
The Committee would like to extend its warm thanks to our sponsors and to those who assisted on the night. Special thanks go to Justice Ward for adjudicating with such good humour, and to DLA Piper for its ongoing and exceptional support.
For more information on NSW Young Lawyers or to get involved in next year's Workplace Debate, visit www.lawsociety.com.au/about/YoungLawyers.
Rana Halabi is the co-chair of the Workplace and Safety Law Committee.