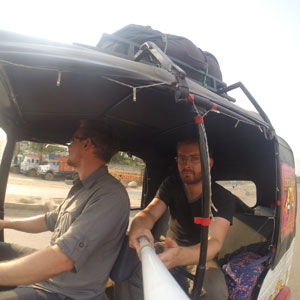 A Brisbane lawyer and doctor teamed up for a rickshaw ride to remember, writes Stephen O'Grady.
A Brisbane lawyer and doctor teamed up for a rickshaw ride to remember, writes Stephen O'Grady.
In January this year I received a message from a mate, a doctor who had been living in Dublin. Pete was coming home and wanted a final hoorah before settling back into Brisbane life.
Not one to turn down the opportunity for adventure, three months later and having raised just over $4000, we were sitting in Miriam's Chariot, ready to take off across the subcontinent: 3700km over 14 days at a blistering average of 30km per hour (and even more blistering 40-plus degrees heat).
Our trusty steed was a three-wheel, seven-horsepower chariot of fire(y glory), designed for short taxi rides through congested Indian cities and with a clever reptilian adaptation of throwing off spare limbs at the first sign of danger.
The event was The Rickshaw Run, organised three times a year by The Adventurists. About 60 teams from around the world took part in this year's April Run.
While plenty of good times are had, it's all done in the name of charity. The first £500 (around $900) raised by each team goes to The Adventurists' nominated charity, coolearth. Coolearth works alongside indigenous villages (currently in Peru and Democratic Republic of Congo) to halt rainforest destruction.
The remainder goes to each team's individual charity. In our case it was our team's namesake – the Miriam Raju Foundation. The Foundation was established in 2006 to commemorate Miriam, who died unexpectedly in 2003 at age 18 after living with significant disabilities. It provides practical support to families caring for children under 21 years old with disabilities.
The Miriam Raju Foundation was the logical choice for us: Miriam's sister is a friend of mine and a lawyer working with Legal Aid Queensland; Pete is a paediatric registrar, so children's issues are close to his heart.
Our journey started in Kochi (or Cochin, depending on who you ask) in south-west India. Fort Kochi is a tourist town of sorts and oppressively humid. After three days of preparation, test-driving, 'pimping the Rickshaw' and melting in the heat, we were off. Our target was Shillong, in the north-east of the country, where the air was cool and promises of fame, glory and chilled beverages awaited.
Our first day on the road opened our eyes to what lay in wait: horns (used often and liberally); trucks (get out of the way no matter what side of the road you are on); broken roads (in fact, the standard road condition in India); and our first mini-breakdown (our fuel vapourised in the heat).
By chance, we joined forces with two American teams: one aptly named Drive, Sleep, Rupeet (seasoned travellers and travel writers, Charlie and Sherry), and the other, NYPD (not police but bond traders, Doug and Anastasia, and an accountant, also Doug). For the remainder of the journey, the seven of us travelled in a convoy of our three ridiculously-painted Rickshaws.
And ridiculous-looking they must have been, because everywhere we stopped a crowd gathered. Locals could not believe we were driving the Rickshaws to Shillong. Every time one of the 'vehicles' broke down (usually at least once a day), a crowd of people would materialise offering help. This made getting repairs done very easy, but getting back on the road very difficult.
We found most breakdowns could be fixed with a welder (these are surprisingly abundant in the Indian countryside) and solved everything from a snapped starter pole, an engine mount or a battery mount to some unknown engine part that decided to fall off. But given that road signs included such encouraging warnings as 'Caution: Bridge in Danger', we weren't surprised at the number and range of our breakdowns.
Even though we headed out at about 5am on most mornings, we were lucky to cover 300km in a day, despite spending 14 hours on the road. Breakdowns and afternoon traffic jams (as well as the wholly unsuitable vehicles) were the cause. We did, however, manage a slight detour to the Darjeeling district, where we enjoyed the local tea and cool mountain climate for a night … but only after pushing the Rickshaws up the hill.
And in the end, we made the finish line, on time, and in one piece. Cold beverages at least awaited, if not fame and glory.
Before we commenced our journey, Miriam's parents had told us that she had been a bit of a wild spirit under her sweet exterior and they hoped she would be looking after us in some way. I hope that was true, and that my own sister, who passed away in 2012, might have had something to do with it too.
Stephen's daily blog post from the back of the Rickshaw can be found at www.miriamschariot.wordpress.com
More information about the Miriam Raju Foundation can be found at www.miriamrajufoundation.org.au
Stephen O'Grady (pictured right) is a senior associate at Minter Ellison in Brisbane. He was a finalist for the Kordamentha Forensic Dispute Resolution Award at this year's Lawyers Weekly 30 Under 30 Awards.