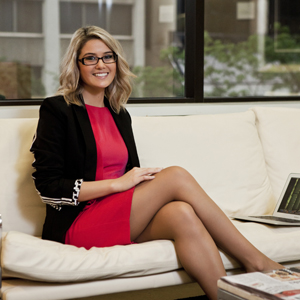 Folklaw's favourite fashionista is taking a year off from her role at Holding Redlich to concentrate on her clothing label.
Folklaw's favourite fashionista is taking a year off from her role at Holding Redlich to concentrate on her clothing label.
Folklaw first met Laura Chong (pictured) in June 2013, a few months after she launched corporate fashion store The 400 Co. Since then, the label has taken off. Most of the female lawyers at Holding Redlich's Brisbane office have shopped at The 400 Co along with numerous other corporate professionals; the label has even caught the attention of TV personalities, including Channel 10 newsreader Jessica Turner and Sunrise co-host Samantha Armytage.
Now, Laura has the respect of the fashion industry – nirvana for aspiring fashion designers. She was recently invited to showcase her clothing line at the Mercedes Benz Fashion Festival in Brisbane, which will involve creating a spring/summer collection, shooting a campaign and styling for the show.
Speaking with Folklaw, Laura was, understandably, chuffed.
"It's very exciting," she said. "When I started The 400 Co I never thought that we'd be here now."
The 400 Co range will appear alongside established designers at the festival. "Basically what that means is I get to meet some really cool people," said Laura.
Later this year, she will also showcase her line of corporate wear at a fashion event hosted by Zonta, an international organisation of professionals that aims to advance the status of women.
Even though her label is featuring in two prestigious fashion events, Laura has no intention of turning her back on the law. The part-time construction and infrastructure lawyer said she will be returning to Holding Redlich when her 12 months' leave is up.
Laura added that she is a lawyer at her core, something her father believes too.
"When I told my dad I was thinking of taking a leave of absence, his response was: 'but you're a lawyer'," she laughed.
But she also admitted The 400 Co has given her a much-needed creative outlet that "balances you out rather than stresses you out".
"[Managing The 400 Co] something I really enjoy, it's like a hobby that's turned into a business."
Laura currently works three days a week at Holding Redlich.
The firm's national managing partner, Chris Lovell, said Laura is an example of how flexible work arrangements can be a win-win for lawyers and a firm.
"She has gone from strength to strength with both pursuits and is proof that flexible work arrangements can work really well. We are very proud to support her in both endeavours," he added.
It seems that isn't just lip service. Holding Redlich recently helped to promote The 400 Co by hosting a fashion-focused fundraising event, and Laura told Folklaw the firm has been supportive of her fashion ambitions, particularly her supervising partner, Janelle Kerrisk, who is one of The 400 Co's most frequent shoppers.
Check out the gallery below for highlights from The 400 Co's 'It's a Woman's World' campaign.
{^widget|(name)RBI.MediaGalleryViewer_1|(noofcolumns)4|(filepath)The+400+Co%2f%2525|(thumbnailsize)60|(widget_displayname)RBI+Media+Gallery+Viewer|(width)|(height)^}