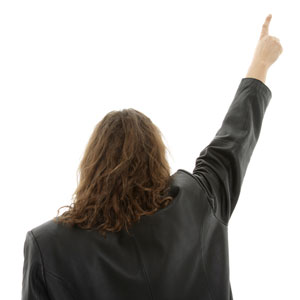 Our history is full of humanitarians, leaders, those who have the courage to stand up for a cause and fight for justice.
There was the late great Martin Luther King Jr, who used non-violent civil disobedience in the African-American Civil Rights Movement, whose 'I Have a Dream' speech continues to inspire generations.
And then there is Lucan Battison, and the hair-raising case of People vs Curly Mane.
As stuff.co.nz reported, this 16-year-old boy has gone to Wellington High Court to fight against his suspension from school for having long hair.
Battison's lawyer argued his client was following the example of the likes of Martin Luther King Jr. and Kate Sheppard, defying authority for a worthy cause.
It all began last month when the year 12 student was suspended from St John's College by his principal Paul Melloy for refusing to cut his long, curly mane.
He was sent to the principal's office, and Melloy looked at his defiance of the rules as "harmful and dangerous", as other students might follow suit.
Because, you know, monkey see monkey do.
The principal said he would cancel the suspension if Battison cut his hair. If he didn't Melloy would send Lucan to the board to decide his fate.
Our bastion of the follically-blessed, Battison, has not gone back to school since.
His father, Troy Battison, joined in the fight, obtaining a judicial review of the suspension in the High Court of Wellington this week.
A real judge actually took up the case. No, really!
Justice David Collins asked Melloy why he didn't opt for other disciplinary measures, such as preventing Lucan from playing for the 1st XV Premier Rugby Union competition or giving him detention.
The school's lawyer said that because Battison blatantly told Melloy he would not obey, in front of his parents, all deals were off the table.
Battison Sr. argued the rule of his son having to cut his hair only came about after the new principal came on board. His son had been making the follicle faux pas for three years with no problems.
He ties his hair up; it is off his collar and out of his eyes.
Plus, as Lucan's lawyer pointed out, if Lucan cuts his hair it would become boofy and turn into an afro.
That's exactly the issue that kept Martin Luther King Jr. up at night. Uncanny!
And yet, no one is rallying behind Battison. The message from the online community seems to be "chop off the locks and get back to school".