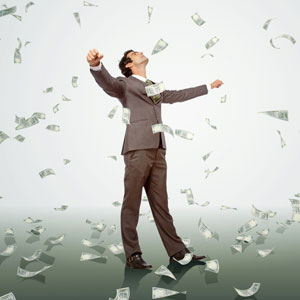 Marriage is a relationship in which one is always right and the other is the husband.
Even if you are a lawyer…
But not always.
A Melbourne lawyer who went on the show Million Dollar Minute struck gold when he won more than half a million dollars.
But it might not have been had he listened to his wife, who'd instructed him to quit while he was ahead and walk out if he won $20,000.
That would have been enough to pay for their already-booked European holiday.
But Jonathan Maher defied the instruction and followed his gut to continue.
In fact, this lawyer from specialist insurance law firm Wotton + Kearney did not even catch his flight to meet his wife in London.
And boy, did it pay off.
He ended up winning $510,500 on Tuesday (8 July) on the Seven Network series.
"She left for England before I started and her strict instructions were that if you win a game, take the $20,000 and leave," Maher told The Age.
"That would have been enough money to pay for our trip … I blew those instructions in game one and then she said do what you think is right."
Folklaw imagined this gold mine would mean Maher could say goodbye to the "workin'-nine-to-five" (or maybe five-to-nine) life and lounge back on a beach with a cocktail.
But not for this 36-year-old.
It was pretty much back to work the next day.
"It's an amazing leg-up, but I expect it will be life as usual," he said.
Maher is only the second contestant to reach the half-a-mil mark in less than two months, but he's the first to actually win.
Back in May, another contestant turned down $500,000 to have a go at a million dollars but lost. She won $77,000.
"I knew from seeing stories in the paper what was happening … and it did bring home to me a little bit about the risks you are taking on the show," Maher said.
"It's easy to get caught up in it and the money becomes theoretical."