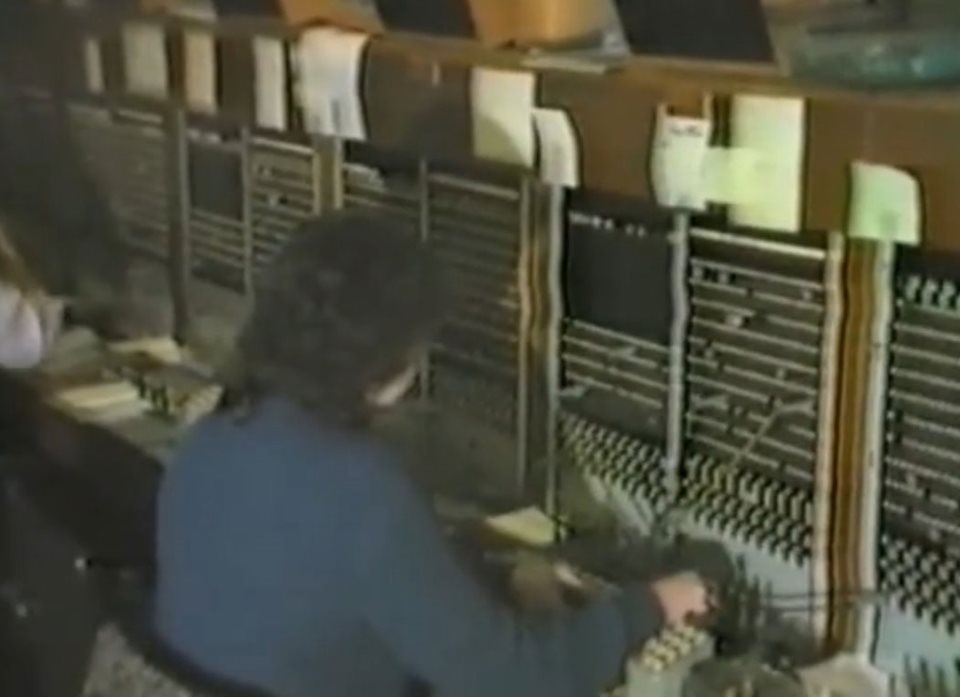 A video recorded at Magic Circle firm Slaughter and May in 1981 containing glorious 80s moustaches and awkward lawyer dancing has resurfaced on YouTube.
Remarks about a female secretary's backside, a theatrical rendition of British tax law and painful footage of lawyers bobbing up and down on the dance floor like everyone's worst memory of their dad are some of Folklaw's favourite moments in this gem of a video.
What's changed?

The viewer is left in no doubt about the antiquity of the video; the fashion horrors, the secretary having a fag at her desk and the conspicuous absence of computers in the office all point to the 80s.

One lawyer takes us on a tour of his office, saying, "This is my telephone over here, and my pencil case and over here is where I do my dictating. Hello 1, 2, 3". Really high tech stuff you've got there!

The switchboard room is full of young women connecting calls, giggling awkwardly in front of the camera. For those of you too young to recall what a switchboard is — it's a dark-age technology used by an attendant to manually connect calls by pulling out and plugging in cords.

The employees find the video camera impossibly amusing. Many are camera shy, hiding their faces and skidding behind walls to avoid being in the shot. This all shows just how foreign the idea of being captured on film was at this time.
"Actually, the only people who are going to see this are myself and my wife", Mitchell reassures a colleague at one point.

That was a lie; the video has been viewed by more than 12,500 people on YouTube.
What hasn't changed?
Sadly, the remarks recorded on camera at 9:55 minutes aren't just a relic from the 80s:
"Tell me, what are you doing at the minute?" the solicitor asks.
"I am looking for a file," a female secretary says.
"Well I have got a lovely view of your backside, I wish you'd turn," he replies.
"Well she does look lovely even though you can't see her face," he adds.
Folklaw is reminded of a more recent incident at another Magic Circle firm.
Last year Clifford took it upon itself to instruct women about the display of cleavage and underwear at work in an astoundingly patronising document, Presentation Tips for Women. Folklaw was dumbfounded, as were many of the women working at the firm.

Another aspect of firm life that hasn't shifted in the 30 years since this video was made is the crushing work hours.
The filming begins around five o'clock the day before Christmas Eve, just as the annual work Christmas party is kicking off. The cameraman exclaims not just once but several times, "Why are you working so late?" to the various people he interviews who are still at their desk long after the party has started.

Lawyers currently slaving to complete 12-14 hour days will probably relate to this.
Where are they now?
Folklaw wonders what happened to the cheery bunch in this now-famous home video.

Luckily, the Legal Cheek has managed to track down a few of the eccentric characters…
The man behind the camera is James Mitchell. He began his career with Slaughters as an articled clerk in 1978 and remained there for four years before becoming a partner at Barlow, Lyde and Gilbert (now Clyde & Co.). He is now in charge of a pair of property investment companies.

The lawyer who bores Mitchell by reading out tax legislation is Philip Higham, who is still an associate at Slaughters.
"What I would like to read to you is possibly the most moving section of the whole of the Taxes Act... It probably has a more intense spiritual content and emphasis than any other section," he says in the video.
James Barnes is the assistant who displays his Christmas gift, a bottle of Beaujolais, on film. He is now a real estate partner at Herbert Smith Freehills.
You can watch the original footage here:

{^youtubevideo|(width)425|(height)264|(rel)True|(autoplay)False|(fs)True|(url)https://www.youtube.com/watch?v=8jlO5YKZWZI&list=UUT9KHhAGpE7L-QXl8wNLmVg|(loop)False^}