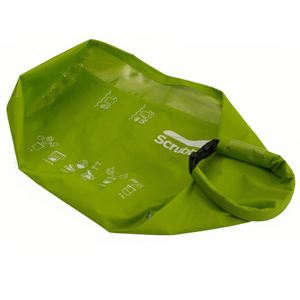 A patent lawyer in Adelaide who quit his day job to patent the 'world's smallest washing machine' is now enjoying global success.
Ashley Newland was working at Phillips Ormonde Fitzpatrick advising clients on their IP when he came up with his own patentable invention – a lightweight and durable washing machine bag for travellers.
He called it the 'Scrubba' and has since sold tens of thousands of units worldwide.
So what was the inspiration behind this clever and lucrative idea?
The light-bulb moment came when Newland was about to take a four-month break to travel to Africa to climb Mount Kilimanjaro.
While planning the trip he realised that he would only be able to pack a few changes of casual clothes that would need to be washed every couple of days.
"After mulling over this issue for a few weeks, I was led to the idea of washboards," he revealed on the Scrubba website.
"It was then that I had the revelation that if we could incorporate a highly-flexible washboard into a waterproof sealable bag, we could change the way people wash clothes while travelling."
A year later Newland handed in his resignation at Phillips Ormonde Fitzpatrick to concentrate on taking the Scrubba to market.
Newland used his expertise in patent law to secure patents in Australia and New Zealand, with patents pending in another 52 countries.
He is also selling accessories for the Scrubba, including inflatable coat hangers, travel towels and packing cells.
Folklaw doesn't expect Newland will be returning to the law anytime soon…