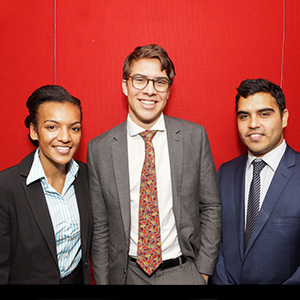 Indigenous law students Rosemary Tabuai and Emmanuel Bell believe law firms and large corporates have a key role in tackling indigenous disadvantage.
Indigenous law students Rosemary Tabuai and Emmanuel Bell believe law firms and large corporates have a key role in tackling indigenous disadvantage.
The CareerTrackers program in large corporate companies is critical to building a stronger engagement between indigenous and non-indigenous people.
As CareerTrackers interns, we recently participated in a panel discussion with Westpac Legal intern Ganur Maynard in support of NAIDOC week.
Westpac's Head of Group Technology and Operations Legal, Kylie Gray and Gadens' Banking & Finance partner Campbell Hudson welcomed an audience of approximately 50 solicitors to hear our  thoughts on a range of issues including the value of the CareerTrackers program as well as how we think corporate Australia can support reconciliation and help close the gap. 
The panel discussion enabled us to share our stories with the audience and speak about why we were motivated them to pursue a legal career.
All three of us share the unique privilege of being the first member of our respective families to study a law degree. We are determined to demonstrate to younger generations that getting a law degree is very achievable.
In leading by example, we place high standards on ourselves and that of all CareerTrackers students so as to ensure that we are the best role models possible for the younger generation of Aboriginal and Torres Strait Islanders.
Listening to others
Being supported by mentors in the legal industry has also provided inspiration for us.
Mentors allow all interns to thrive in their practice groups and to learn and refine techniques and skills which can be used in practice and at university.
This means we are in a better position to complete our degrees and to stand a chance when the intensely competitive graduate recruitment programs that most law firms and companies annually roll-out gets to the offer stage.
Having positive mentors also guides a CareerTracker student in a positive direction; giving us someone we can rely on to discuss any problems that arise during our internship. The mentors also help interns to discover early on in their degree what their true passions are.
My (Rosemary's) passion for corporate law has led me to achieve academically and give back to the community.
Since joining CareerTrackers and Gadens, I have helped to inspire my mother to complete a TAFE course and become fully employed.
My sister, currently in Year 11, now also aspires to study social work at the University of New South Wales.
The opportunity to be a leader and role model within my community has meant a lot to me personally, giving me extra motivation to complete my studies and gain full time employment within a leading Australian law firm.
I (Emmanuel) started my CareerTrackers internship at the end of 2011 after finishing my first year studying law.
With involvement in several practice groups thereafter, the supportive network that has been formed has become a strong foundation for advice and support with not only my studies but also in life outside university.
If it wasn't for CareerTrackers, I would not have received ongoing exposure to exceptional lawyers and the wide variety of clients and different sorts of work that is on offer at law firms such as Gadens.
Working on pro-bono matters, going to Court, drafting reports and letters to clients and most importantly being a part of the culture within a law firm is just some of the highlights that I have been able to experience throughout my internship.
The responsibilities that an intern has at their workplace increases with their exposure and experience.
The personal and professional development of each student is recorded in weekly updates to the CareerTrackers student advisors and each intern has a meeting at the end of their 12 week internship to assess their performance and to set goals for the next time internship.
Interns also do presentations to their company reflecting on their involvement during the work placement and what the internship means to them as an aspiring Aboriginal and Torres Strait Islander employee. 
Rosemary Tabuai (pictured left) is a proud Saibailaig and Meriam neur from the western and eastern region of the Torres Strait Islands in her fourth year doing a Bachelor of Laws/Arts, majoring in Environmental Humanities at the University of New South Wales.  In 2013 she was a finalist in the Lawyers Weekly Women in Law Awards.
Emmanuel Bell (right) is a proud Wakka Wakka and Burri Gubba nation man from Brisbane in his fourth year doing a Bachelor of Laws at the University of Queensland.
Ganur Maynard (pictured middle), is a CareertsTrackers intern with Westpac Legal and was the third member of the panel discussion. Ganur is a proud Kamilaroi man from north of Dubbo in his second year doing a Bachelor of Laws/Arts, majoring in History at the University of New South Wales.