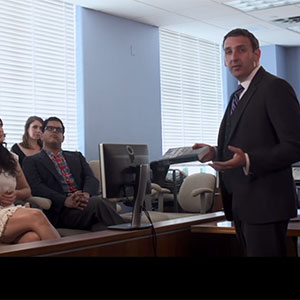 What do lawyers at your law firm practise? Business litigation? Breach of contract? Family law? Wills and estates?
That's a pretty wide range. But you've got nothing on US firm Pete Reid Law and its owner, Pete Reid.
Folklaw came across an advertisement on YouTube for Pete Reid Law, a firm based in Austin, Texas and New York. It did have suits as expected, but Folklaw didn't expect superhero Pete to pop up on the screen.
The ad starts with Reid grabbing a book called Law's Empire, which, we're guessing, was not an accident.
In the following one minute, our attorney-at-work/good Samaritan/genius then proceeds to solve the Rubik's cube, return dropped cash to a jogger, deliver three checkmates to chess players, play hairdresser, win at karate, save a drowning man in a pool, stop a thief in his tracks, kick a goal for soccer… all before reaching work.
Phew!
SuperReid then has the time to give lectures to his colleagues … at which point the music comes to a screeching halt.
Oh, did Folklaw forget to mention the whole thing is set to I'm the one for you by The Ugly Beats?
Reid then throws a nonchalant glance at the camera and says "I rest my case".
Cue round of applause and standing ovation from his colleagues. 
It should be noted that in between saving lives, catching criminals and just being an all-round genius, Pete's law firm does offer legal services in the areas of: breach of contract, business litigation, creative contracts, real estate litigation, sports law, technology and new media, and wills and estates.
Most lawyers don't have time to get coffee.
Folklaw came across the ad just a couple of months after watching staff at US firm Vinson + Elkins dance to Pharrell Williams' Happy.
Is there something in the US waters we Aussie lawyers don't know about?
{^youtubevideo|(width)640|(height)385|(rel)True|(autoplay)False|(fs)True|(url)http://www.youtube.com/watch?v=_GKau9iqBiU|(loop)False^}