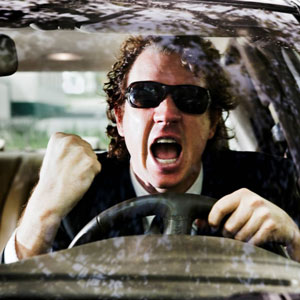 Folklaw is sad to report that road rage has been taken to a new extreme in NSW.
When a motorcyclist gets their L plates they might imagine hitting the kerb, bungling a reverse park or, at the very worst, causing an accident.
What they don't usually worry about is furious lawyers knocking them off their motorcycle and assaulting them in the street.
Folklaw is sad to report that road rage has been taken to a new extreme in NSW.
Alex Chapman, a 28-year-old communications consultant, who had only been terrorising the streets of Sydney as a humble L-plater for less than a week, was assaulted by Sydney corporate lawyer Murray Bede McArdle last year.
McArdle is the chief legal officer at engineering company UGL Limited.
"All I remember is being hit from behind on my motorbike by a car and then being attacked by the driver, being strangled," Chapman said outside North Sydney Local Court on Monday (11 August), as reported in The Sydney Morning Herald.
Chapman claimed he was driving his black Ninja 250cc motorcycle along the Pacific Highway in Chatswood when McArdle's car slammed into the back of his vehicle.
"He had me around the neck by his right hand and I couldn't really breathe at the time," said Chapman.
"Just due to the shock and due to the nature of the actual attack itself, I can't remember much more about it."
The 55-year-old defendant pleaded guilty to the charges of common assault and malicious damage and will be sentenced on 1 October following a mental health examination.
Chapman said he was happy that McArdle had pleaded guilty.
"I think it sends a message to people on the road that they just can't do this to people, especially L-platers. Nobody should have to go through this."