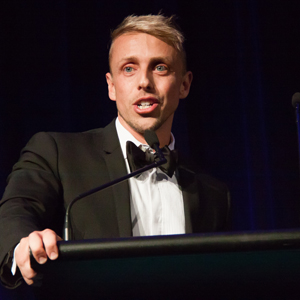 DLA Piper's Nicolas Patrick told guests at the Lawyers Weekly Law Awards that Aboriginal people still face discriminatory laws and mid-tier firms need to be more involved in pro bono.
DLA Piper's Nicolas Patrick told guests at the Lawyers Weekly Law Awards that Aboriginal people still face discriminatory laws and mid-tier firms need to be more involved in pro bono.
I was described by one of the trainees in the London office this week as the woofy, poofy, hippy lefty pro bono partner, and consistent with that, I am going to start off by acknowledging the traditional owners of this land, the Gadigal people of the Eora Nation.
This place where we are having dinner tonight [Sydney's Four Seasons Hotel]  is particularly important to the Gadigal people. The settlement that arose here in 1788 saw the Aboriginal people pushed further and further away from the coastline. By 1816 a lot of the Aboriginal camps had moved to a natural clearing around where Hyde Park is today.
In 1816 there was some violence between the settlers and the Aboriginal people, and Governor Macquarie passed what was one of the first discriminatory laws, which was a proclamation which made it illegal for Aboriginal people to lurk or loiter or congregate inside the Colony in groups of six or more, or within a one mile radius of the colony.
This meant a lot of the Aboriginal camps around Hyde Park had to move, and they moved some of those camps out to a clearing outside the one mile radius, which at the time was called the Cleveland Paddocks -the area just behind Central Station at Redfern.
Redfern has been very important for Aboriginal people ever since then, and I have spent 15 years as a volunteer and 10 years as a director and chairman at Redfern Legal Centre, and witnessed first- hand the inequality that still exists in this country today.
We still have discriminatory legislation. One of the clients we act for is an Aboriginal client who has worked all his life and has never accessed any welfare payments or government assistance.
He came to us at the age of 59 and said he feels like a very old man and feels he can't work any more. He would like to retire, but he can't access his superannuation or the age pension until he is 65.
Now, Aboriginal men in this country have a life expectancy of 59, so while the requirement that you need to attain the age of 65 to access those entitlements and benefits applies to everybody, it is more difficult for Aboriginal people to meet. This is an example of the indirect discrimination Aboriginal people still face today.
Lawyers learning from and helping each other
That's why I think our pro bono practice is so important. That's why I still do this work, and I very much appreciate winning this Award and being recognised for the pro bono work I have done.
In fact, most of the work is actually done by other people.
Mark Twain said 'To do good is noble. To encourage others to do good is nobler still and far less trouble for oneself'.
That is a sort of motto for pro bono lawyers.
Pro bono is actually done by all the very good people in law firms, so I would like to thank my firm DLA Piper for allowing me to be a partner in the firm and not generate any money whatsoever for the business.
I would also like to really thank Lawyers Weekly for the coverage you give to pro bono and access to justice issues, which is very important. It makes pro bono look and feel like any other practice area and it is just as important as any other practice area and it does have a big impact on the willingness of firms to do it and encourages and supports lawyers to do it.
I also want to mention that there are a number of firms that have very good pro bono practices: Gilbert + Tobin, Clayton Utz, Ashurst and Herbert Smith Freehills were all firms that came to pro bono before DLA Piper and have leading prop bono practices like we do.
The pro bono partners at those firms are all friends and colleagues and mentors and I very much appreciate that.
Strong pro bono culture should not just be set by the top-tier
I wanted to finish by noting some challenges for pro bono over the next few years which are very significant.
We have a very strong pro bono culture in Australia, and I am now in a position where I am running a pro bono practice across many jurisdictions, which lets me appreciate how strong the pro bono culture is in Australia.
There is though, a gap between the firms that do pro bono very well here in Australia and the firms that don't do very much at all.
There are a number of partners moving from large law firms to mid-tier law firms where they have less pro bono opportunities, and I think we need to make sure there is a more even level of commitment to pro bono in Australia.
The other challenge for pro bono in Australia is that the internationalisation of the profession is in some cases is leading to a dilution of our pro bono culture.
It is very important that we preserve what we have, and not just preserve it but export it.
The pro bono culture that has developed in Australia is a very strong one and there are lawyers at firms in our region who are ready, willing and able to do pro bono, but are unsure about how to do it or don't have access to the same opportunities to do pro bono as we do.
So I encourage you to do more pro bono in this region and to try and spread the pro bono culture that we have here beyond our own borders.
Nicolas Patrick is the global head of pro bono and corporate responsibility at DLA Piper. This was his acceptance speech on being awarded the Advocate Award at the Lawyers Weekly Law Awards on 8 August. Nic is pictured delivering his speech