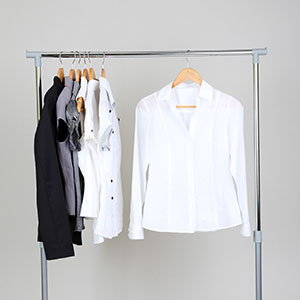 When an opportunity came around to help women get their best gear on to find jobs and attend interviews, Clifford Chance leapt at the chance.
The lawyers at Clifford Chance know they are in very fortunate and privileged positions. So when an opportunity came around to help other women get their best gear on to find jobs and attend interviews, the global law firm leapt at the chance.
Clifford Chance participated in a fundraising event to collect corporate wear to donate to non-profit organisation Fitted for Work (FFW).
The volunteers at the organisation assist women in being interview-ready by dressing them head-to-toe with a new suit, shirt, accessories, handbags and matching shoes to boot.
They also help women with grooming, interview preparation and health.
So when Clifford Chance heard of an opportunity to help women be job-ready, it started spreading the work to staff and clients.
Pretty soon they were flooded with suits, shirts, scarves and shoes as donations to the organisation.
The firm held a midwinter alpine celebration for FFW at its Sydney office on Wednesday (20 August).
They converted their usual boardroom into a function room, with Harbour views and even a small Christmas tree to evoke the winter feel for a packed room full of staff and clients.
Partner Diana Chang, who was one of the main organisers of the event, said donating clothes and accessories for women applying for a job is not that hard for her.
"I personally think I'm very fortunate so it's not much effort for me to help organise this event," she told Lawyers Weekly.
Chang believes this is part of the firm's corporate responsibility and calls it a "no-brainer".
"I'm hoping to achieve awareness that we have a responsibility to really help women who find themselves in positions, which are often not of their choice.
"It takes very little effort to do something which could actually transform a woman's life by giving a suit that you're no longer using, which assists someone to attend an interview; gives them the confidence to apply for a job," she said.
In 2012, Chang and one of her young associates were thinking about putting an event together to support a charity, and her colleague identified FFW as an organisation to support.
In that event, the firm collected enough clothes to help 203 FFW clients.
Managing partner Mark Pistilli said staff donating clothes to the women was a great opportunity to revamp their wardrobe.
"My wife, in particular, and lots of people use it as a great opportunity to trade up the wardrobe. So tomorrow morning you can go in and say there's nothing there," he said.
He reiterated Chang's point that being privileged requires the firm to take its corporate responsibility seriously, and supported FFW's way of doing things.
"What we really like about it is it's not just a gift; we're not about just giving people something other than the ability to compete. It is then up to them to compete. It's not just a handout," he said.
Sydney program manager for FFW Elizabeth Montgomery said events such as these, where women donate clothing, is a valuable contribution to the service, and to the 3000 women it helps annually.
The event raised $5100 for FFW, in addition to the clothes donated on the night. Clifford Chance had not disclosed the amount of clothes donated at the time of publication but said there is a larger stockpile than there was in 2012.
FFW, which started in 2005, has helped 15,000 women so far.
The organisation also has a Transition to Work program, which supports women experiencing disadvantages and barriers such as disabilities, domestic violence, mental illness, poverty and so on to transition into sustainable employment.
A special guest at the event was author and former model Tara Moss, who attended at the request of Chang.
She said women are over-represented in poverty, homelessness and issues like domestic violence.
"Many of us actually have more things than we actually need so things like corporate wear, which has a really specific significance for women, are not always affordable for people going through a rough time but they can make a very big difference in an interview," she told Lawyers Weekly.