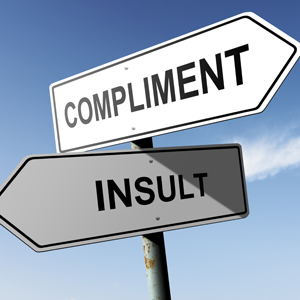 Folklaw is no expert, but surely lawyers pick up a few cues about basic human courtesy as they go about their day to day work?
Folklaw is no expert, but surely lawyers pick up a few cues about basic human courtesy as they go about their day to day work?
Well, one Perth lawyer must have been asleep during that class. Barrister Simon Watters was invited to North Cottesloe Primary School on 29 August to be the MC of a primary school quiz night.
What should have been a warm, fun night turned into a barrage of homophobic, sexist, racist and xenophobic comments from Watters.
Folklaw is always up for a good laugh but even we were gulping as we read his comments.
"I'm not going to say faggots, because that's a minority," local WA website The Starfish quoted him saying, reporting that he repeatedly used the word.
"What else could this guy be but a faggot?" he asked, pointing to a photo of a 1980s singer during the quiz. "Look at it".
At one stage he called a woman in the audience a 'wog', going on to say they would know when their pizza has arrived as there would be "Arab and Pakistani people wandering around".
He then shot his target at one woman, saying "wog. Wogs can't win, we won the war".
Watters has two children with disabilities but that did not stop him from asking "is anyone out there a Thalidomide child? You got Parkinson's or something?"
Folklaw doesn't know if having children with disabilities justifies making disability jokes. In fact the two words read like an oxymoron.
At one stage he said only "young and good looking women with C and D cups" should bring their table's quiz answers to the front.
He took a jab at the quiz prizes donated by the community, calling them "crap".
Even the school's principal Wayne Press did not escape unscathed.
"Don't worry about the result, the prizes are absolute crap, it doesn't matter. If we get enough money, we'll get a decent principal," he said.
We still love him
Watters hosted the quiz in 2012 and had attracted complaints but he was invited back to host again this year.
One mother told Mamamia there was a vote that he was the popular choice for the job and people who were offended could skip the event.
It looks like it won't be third time lucky for Watters as an MC host though. Press said in a statement he would not be invited back to host future school events.
"Unfortunately, the MC, who is not a member of our school community and was invited by the P&C, made a number of remarks during the evening which were deeply offensive and hurtful," Mr Press said in a statement.
"I would like to state clearly that these offensive comments in no way reflect the values of our school," he said. "I will be working with the school board and the P&C [Parents' and Citizens' Association] to develop stronger protocols for the hosting, compering and running of future events so these unacceptable actions do not occur."
Folklaw was most surprised to read comments that supported Watters' actions, and commended him for his sense of humour.  
A P&C member told Mamamia Watters got the job for his sense of humour and that the association would continue to support him.
She said that while Watters would not be coming back for future events, "we actually will be looking at ways to support him through this difficult time, where his face and name will be plastered everywhere".
On the Starfish website, one commenter, Caternia Samaha said: "I feel honoured to know this incredible man! He is an amazing man who contributes to our community every day… He is a generous, kind and VERY, VERY FUNNY man, who is adored by all that know him. He is so far away from anything that has been described here." 
Really?
I don't see what the big deal is
Following the brouhaha, Watters called his comments "quite tame", saying in a statement the humour was not taken as intended.
"No comments were made to offend anyone. Given the mature and intelligent audience…I'm bewildered by the focus on my comments, which were quite tame in my opinion.
"It is upsetting that a significant and successful fund-raising night for the students of North Cottesloe Primary School has been overshadowed by complaints from one table at the event."
Yes it is surprising how making racist, sexist, and homophobic remarks can attract the ire of some.
Folklaw is just a bit disappointed more people weren't appalled.
Calls to Simon Watters by Lawyers Weekly were not returned. 
Lawyers Weekly also wanted to find out if any complaints had been filed against Watters from the Law Society of WA, but they refused to comment.
But Law Society of WA president Konrad de Kerloy did tell WA Today that Watters' actions could mean he has breached the Legal Profession Conduct Rules.
The Legal Profession Complaints Committee refused to comment on whether an official complaint has been made against Watters.