Goodbye job applications, hello dream career
Seize control of your career and design the future you deserve with
Law students get a taste of the real world
Two Australian law students flew halfway across the world this month to get a taste of the real world of being a lawyer and a negotiator.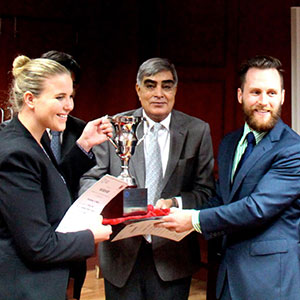 Michelle Page and her friend Fred Gollan recently represented the Australian National University (ANU) in Delhi where they not only participated in a negotiation competition, but did the uni proud by winning.
You're out of free articles for this month
To continue reading the rest of this article, please log in.
Create free account to get unlimited news articles and more!
Page recently finished her Bachelor of Arts/Laws (Honours) at the Australian National University, and has started her Masters of Law at the University of Sydney.
One day in July, she was browsing through Beyond Law, a website for legal job news, resources and career advice, when she chanced upon an advertisement for the first negotiation competition at the National Law University (NLU), Delhi. 
NLU, Delhi teamed up with Herbert Smith Freehills (HSF) to present the first edition of the NLU-HSF International Negotiation Competition (NNC), which was held from 12-14 September.
HSF agreed to sponsor the event due to HSF India practice chairman Chris Parsons' connection with NLU, Delhi.
The competition is an avenue for students who dream of becoming international lawyers to really sink their teeth into simulated legal negotiation situations.
Page pounced on the idea of participating in a competition where she could flex her mediation muscles and immediately called her fellow ANU friend Fred Gollan.
Gollan, who is in his sixth year of a Bachelor of Asian Studies/Laws, jumped at the idea.
VIEW ALL
Diving into the deep end
Before arriving in Delhi, Page and Gollan were given two problem scenarios for the preliminary rounds of negotiations and a set of confidential facts about their client and their position regarding a specific dispute.
The two then assumed the roles of 'counsel' or 'client' in the one-hour negotiation simulations with 14 teams from different universities around the world, including Cambridge, Germany's University of Cologne and NLU; Page and Gollan each got the chance to play the role of client and counsel twice.
"In one of the situations we were negotiating how our client was going to pay a $24 million debt to another company and so we needed to think about what assets we can sell, how much money we have, can we sell a technology that we have and make a bit of money off that," said Page.
"Another one was negotiating the terms through a sponsorship agreement between a cricket team and energy drinks company like Red Bull.
"I guess the aim of the game was to have our client reach a good settlement with the other side with regard to a range of different legal and commercial problems."
Page said she and Gollan had to deal with complex issues in the commercial and legal aspects of the law, including force majeure.
The teams had one hour negotiation sessions and then 10-20 minutes with judges questioning them.
After breezing through the preliminary rounds, Page and Gollan found out at 11pm that they had reached the semi-finals.
Instead of breathing sighs of relief, the two had to scramble to prepare for it then and there. They were given two new sets of confidential facts at midnight.
"We walked into the semis with no sleep and then subsequently the grand final with no sleep the next day," said Page, adding that they did four simulated negotiations in those 48 hours, while staying awake for over 30 hours.
"In the real world, as a lawyer we'd be working under strict deadlines and dealing with high-pressure situations and it was interesting to get a taste of what that sense of pressure feels like. Nothing could have been more exciting, exhausting and challenging, all at once," said Page.
Cultural lessons
Page said the best part of the competition was that it gave her a taste of the real world, something she was missing out on at university.
"It's the few experiences you get in university where the gap between theory and practice is bridged and where you're in a situation where you can pretend to be a lawyer," Page said.
"After five minutes of getting into that negotiation you forget that you're performing and you really feel like you're the lawyer and the client."
Gollan loved being on the international stage to get an understanding of how different cultures and minds operate, and "how different social standards dictate how you need to attack negotiations".
The two encountered a situation where they had said a non-committal "yeah" to something being placed on an agenda, as it is an Australianism to say "yeah" to mean "I understand". But the other side interpreted that as a definitive "yes".
"They're just little idiosyncrasies that I guess Australians might have such as being a little bit more casual," said Gollan.
Gollan also commented that he enjoyed the experience of being reactive in a situation, having the liberty of pushing the boundaries to come up with creative solutions, and team work.
"In these competitions you just have to completely trust what your team member's about to say because if they say something and you disagree with them you get points docked," he said.
"You also have to be confident that if they make a mistake they can pull it back for themselves. So learning to rely on other people is something that I don't think we really learn in law school so that was a really valuable lesson."