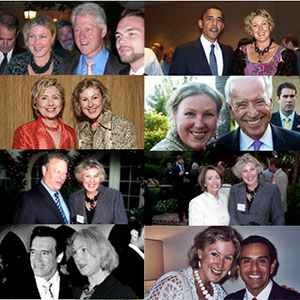 A US attorney has been caught out superimposing herself into photos with political leaders and A-list celebrities.
Ever wish you could party with Paris Hilton or call around to the Obamas, Clooneys or Kardashians for dinner?
Personally, Folklaw doesn't; but there is a lawyer in Los Angeles who went to great lengths to give the impression that she is besties with the rich and famous.
Svitlana Sangary is facing a six-month suspension from the California Bar for doctoring dozens of photos to make it appear as though she is in the presence of a celebrity and posting them on her professional website, reports the Daily Mail.
In a decision handed down earlier this month (11 September), State Bar Court Judge Donald Miles said the images fall under the definition of 'false and deceptive advertising' because they are an "advertisement and solicitation for future work".
Now Sangary is no slouch at using Photoshop; there were no obvious crop marks or revealing shadows in the photos; and the lawyer used a variety of selfies so that she appears in different outfits, hairstyles and poses alongside her famous friends.
Unfortunately, her 16-page response to the allegations was not as well-crafted.
In one section she appears to go on a tangent about actress Natalie Portman's performance in Black Swan.
"The online media extensively covers the controversy surrounding Natalie Portman's performance in the film Black Swan. The ballet dancer who performed in the Black Swan, Sarah Lane, has come forward to revel [sic] a 'cover-up' and says that Natalie Portman's head was superimposed on to Sarah Lane's body, and that Natalie Portman lied.
"Despite the foregoing, Natalie Portman has won an Oscar for her performance in Black Swan."
Folklaw can't work out why Sangary would use the example to argue her case.
Maybe Natalie can shed some light at our next get together…