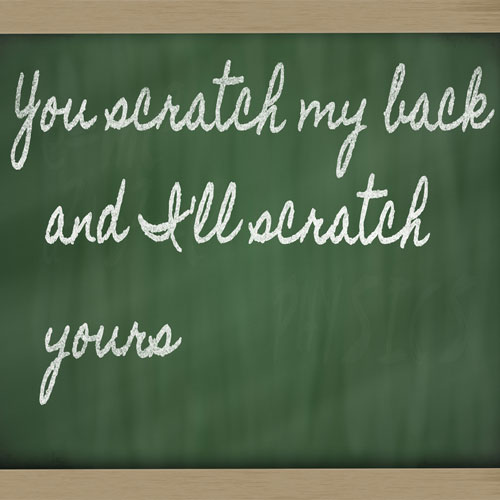 With campaigning for NSW Law Society Council elections in full swing, Anthony Jucha shares with Folklaw how he decided to vote last year.
I don't know what to make of the lawyers who serve on the Law Society Council.  Unlike most other volunteer members of a governing body, they actually seem to want to be there.  Surely, with that kind attitude, they cannot be representative of their members.
I've spent my entire legal career avoiding any volunteer work that might make the most of my professional expertise.  As if selling my time isn't bad enough, people expect me to give it away?
'Support us, to support you!' implored a broadcast email from one of the tickets from last year's Law Society elections - with the mandatory photograph of lawyers, approaching down Philip Street, shoulder to shoulder, like the undead.
I hit reply.
'In my hand', I wrote. 'I hold a crisp blank ballot paper for the Law Society Election.  I haven't voted yet.  I wasn't even planning on voting.  I was just going to throw my ballot paper in the bin, as I do every year.  But after I received your email seeking my vote, I started to wonder whether you might be a candidate who has something to say that's worth reading, and voting for.  So, I deleted your email (unread), and thought I'd send you one in return.'
I then asked about their policy on me, and my creative writing exploits.
'…if elected, how will you help to ensure the Law Society Journal will keep publishing my work?  Support me to support you.'
I sent the same email to all candidates.
In an instant, candidate Philip Madden replied: 'Want to be on the sub-committee?'
I studied the email through narrowing eyes…  Was this a candidate baiting me back?
Days passed.  I wrote again.
'To date, I have received a response from only one of you - and so there is only one 'X' on my ballot paper… I have up to five more 'X's to distribute… All I ask in exchange for my vote is an interesting email from you.  I'll even take a semi-interesting one.'
Candidate Darryl Browne now responded: 'Are you suggesting that your vote can be BOUGHT? Not only that but for as little as crass attempts at base humour or sycophancy?..  I'm outraged… How dare you lessen something so sanctimonious.'
He won my vote.
And then, candidate David Barker wrote back in support of my articles, but with the following caveat: '…as a candidate for the Council of the Law Society I believe that there is an ethical issue involved in our email discussion. I would not like my approval to be seen as way of solely gaining an extra vote.'
I voted for him anyway.
'I now have three 'X's on my ballot paper.' I wrote in my next missive.  'I fear that those who have not responded might be taking me too literally.  I'm not really looking for an email praising my work, I'm just trying to write an article here.'
And yet, no other candidate responded, so I cast my three votes.
Browne was elected.  Barker missed out only just.  Madden polled second to last.
Cheers and commiserations
I invited the latter out for a post mortem drink.  He had quite the rosy outlook.
"I was only 400 votes short," said Madden.  "If I'd run with a ticket, I might have made it."
"You might have," I said.  "Remember how you asked me if I wanted to join a sub-committee.  Is there really one for the Law Society Journal?"
"Not yet," he said.  "But maybe you should run in the next election.  If you get elected you could create a committee.  We could run on a ticket."
For a moment, I contemplated the glory of office - and the fun of moving resolutions in favour of my own articles.  I could put myself on the front page!
But as Madden went on, and I smiled and nodded and tried to listen, I remembered what it is like being on a committee.  Just not worth it.
Better I write for Lawyers Weekly instead.
Anthony Jucha is a lawyer and a writer. You can see more of Athony's writing here.