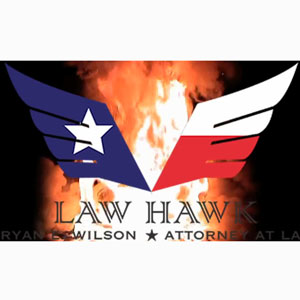 A junior lawyer in Texas has found a way to differentiate himself from his colleagues through an explosive social media campaign, which literally involves explosions.
US attorney Bryan Wilson (pictured below), aka the Law Hawk, has clawed his way to success through an ingenious publicity campaign featuring one of the funniest YouTube videos Folklaw has ever seen.
The video confirms whatever stereotypes you may have had concerning Texan rednecks.
It starts with an obligatory patriotic moment – a flapping American flag overlaying the image of a hawk.
Next, a loud blast throws flames across the screen just in time to introduce the hero of the piece: Wilson himself.
"Tales of justice! They call me the Law Hawk! GO LAW HAWK! I'm the Law Hawk. I'm the Texas Law Hawk," Wilson roars, emphasising that he is in fact a 'Law Hawk' by throwing his hands into a telling claw shape.

The sound of screeching birds takes the viewer into the next segment, where Wilson shows a policeman what's what by kicking his clipboard out of his hands to stop him illegally searching a car.
"You can't pull people over on a hunch. Know your rights! Call the Texas Law Hawk today."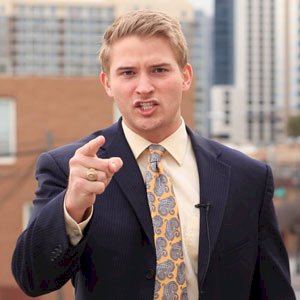 On the Law Hawk website, Wilson is quite clear on this point: "Do not consent to any search, ever. Even if the cop seems like a really nice person and makes you feel bad for saying no ... [or] a big scoundrel with a scary voice … do not consent to a search."
On the website blog he adds, helpfully, "General rule: cops don't think bunny costumes are funny", with a photo of himself in a car dressed in a bunny costume for good measure.

But Wilson isn't just out for a laugh; he's determined to prove the full extent of his lawyer rage and does so in the video by lifting an entire tree branch over his head and smashing it against a wall.
On his website Wilson offers "AGGRESSIVE LEGAL REPRESENTATION", and it seems that is what he promises to deliver, one way or another.