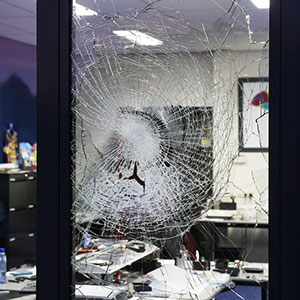 Staff in a law firm in Florida got the shock of their life when they found crooks had turned their office upside down, inside out.
Burglars chose law firm Abeles + Karle in a quiet community in DeBary, Florida to break in and run off with several items.
The crooks shattered the windows from the outside, but that was nothing compared to the damage and vandalism on the inside.
Attorney Philip Karle noted "the fact that it's such an unusual scene and an unusual area for it to happen in", according to news channel Local 6.
He said it was just an odd incident of vandalism, theft, and "just general mayhem in the office".
Florida's Volusia County Sherriff's Office said they don't have any suspects or know the motive.
Karle's wife, Rena Karle, painted a picture of the chaos the crooks caused.
"Windows were knocked out, furniture was slashed. Soda pop, paint and cleaning solution all over the room," Rena said.
She even found "white, sticky goo" sprayed all over the floor and walls, saying she didn't even know what it was.
She also said the burglars got away with valuable artwork, which her grandfather had brought back from Japan.
The crooks also got away with two computer towers, two monitors, along with law manuals and a Bible to which staff had special attachment.
They even made off with some Halloween candy the firm had kept.
But there was a bright side.
"All of our client files and data and personal information is stored off site on secured servers," Karle said.
Rena said there are about $100,000 to $150,000 worth of damage, and wants the culprits to come forward.
"Take some responsibility for it and be brought to justice," she said.
Meanwhile, the firm said it is business as usual for them. They didn't even close while clearing the mess.