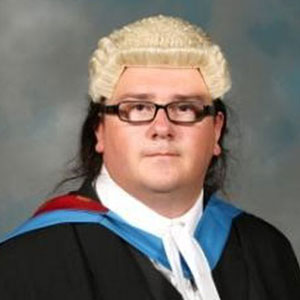 With ribbons flowing from his legal robes, a university law student offered tribute to the now-famous 'Harry Potter' lawyer in a recent mooting event.
With ribbons flowing from his legal robes, a university law student offered tribute to the now-famous 'Harry Potter' lawyer in a recent mooting event.
Alan Blacker (aka the 'Harry Potter' lawyer) (pictured) inspired Aberdeen University law student Bart Kruk to introduce first year students to moot tournaments in a memorable way.
Blacker calls himself Lord Harley of Counsel. This prompted Kruk to adopt the title of Dr. the Right Honourable Bartoz of Kitchen of the most venerable Order of St Machar & Hillhead, and festoon his garments with colourful badges and ribbons for the occasion.
"It was a light-hearted [mooting] session ... Although it had educational aspects, it was largely for fun. In the end the staff won, in the time-honoured tradition of trial by combat," Kruk informed Legal Cheek.
Lord Harley first popped onto the media's radar when he came under heavy fire from a judge over his flamboyant choice of dress while defending Andrzej Wojcicki in Cardiff Crown Court in August.
His client had been found guilty of killing a cyclist, making the extravagant adornments all the more inappropriate, according to judge David Wynn Morgan.
"If you ever appear looking like something out of Harry Potter, you can forget coming before this court ever again," barked the judge.
Lord Harley, a solicitor at Christine Sharp & Co Solicitors in Lancashire, claimed the decorations were legitimate awards for medical service with St John Ambulance.
To this the judge thundered: "Here in South Wales, we had a barrister, who later became a judge, who, during the Battle of Normandy, was awarded the highest order of gallantry, the Victoria Cross. Did you ever see him wearing that medal? No. He would have considered it the height of vulgarity."
Folklaw thought this kind of grilling would encourage the Lord to tone it down but, to the contrary, his LinkedIn profile continues to host a number of extraordinary claims.
He styles himself as "The Rt. Hon.", although his name is strangely missing from the list of British Privy Counsellors.
He also refers to himself as 'Lord Harley of Counsel' when the 'of Counsel' post-nominal is traditionally reserved for those on the Barristers' Register. Again, in what Folklaw must assume is a freak oversight, his name has been carelessly left off the list.
With claims to expertise in no fewer than 23 distinct areas of law, it is no wonder that Lord Harley's online resume requires extensive scrolling.
Amongst the reams of awards, titles, academic achievements and publications are claims of native-level proficiency in Urdu, Punjabi, Gujarati, Hindi and Luo, as well as claims to ownership of World War II anti-tank weapon patents.
Folklaw would love to know which, if any, of these assertions are true.
Folklaw is also curious to find out why the Joint Armed Forces Legal Advocacy Service, a Rochdale-based UK charity that Lord Harley founded, has a picture of the Sydney Harbour Bridge on the website homepage. Is Britain's favourite Lord Barrister a secret Aussie fan?