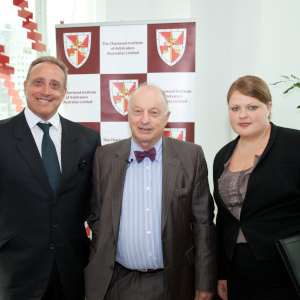 Dr Gavan Griffith QC, former Solicitor-General of Australia and now a prominent international arbitrator, discussed the debate about investor-state dispute resolution clauses at the Melbourne Commercial Arbitration and Mediation Centre on 9 October, as barrister Eugenia Levine reports.
With the G20 member states set to descend on Brisbane in November and multilateral trade agreements on the agenda, it was particularly topical to have Dr Gavan Griffith QC provide an informed and experienced view on a far-ranging list of topics – including investor-state and international commercial arbitration – in conversation with Chartered Institute of Arbitrators (CIArb) Australia President Albert Monichino QC and me.
Dr Griffith addressed the continuing debate in Australia about the inclusion of investor-state dispute settlement clauses (ISDS) in investment agreements, which commenced with the  Australian government policy announcement in April 2011 (not to include ISDS in future agreements, and since overturned) and more recently the Australian Senate Committee Report on the Anti-ISDS Bill, introduced by Greens Senator Peter Whish-Wilson, seeking to impose a legislative prohibition on future Australian governments including ISDS clauses in bilateral investment treaties (BITs) and investment chapters of free trade agreements (FTAs).
Dr Griffith commented that the inclusion of ISDS clauses in BITs is part of an established system of investor-state arbitration, which provides crucial protections and safeguards to investors – including, importantly, to Australian investors investing in developing countries.
Albert Monichino QC pressed Dr Griffith on some of the perceived weaknesses in the investor-state arbitration system (including the lack of any system of precedent and the potential creation of regulatory chill), asking whether the system should and could be fixed or, alternatively, whether it was irretrievably broken down. Dr Griffith expressed the view that the criticisms were overstated and that the system offers a viable way of resolving disputes between foreign investors and national governments – one that is superior to the alternatives available.
In discussing the high-profile investor-state arbitration between Philip Morris and the Australian government concerning Australia's plain packaging legislation, Dr Griffith noted that this arbitration arose as a result of a freely-negotiated BIT between Australia and Hong Kong and should not be seen as an attack on the rule of law (as alluded to by Chief Justice French in a paper recently delivered to a judges' conference).
The challenge by Philip Morris at the investor-state arbitration level is being made on the basis of an alleged breach of the protection against "expropriation" contained in the Australia-Hong Kong BIT. It does not impact on the operation of plain packaging laws in Australia or the binding nature of the High Court's judgement with respect to the constitutional validity of those laws, which principally concerned the meaning of the phrase "acquisition of property" in section 51(xxxi) of the Australian Constitution.
During the discussion, Dr Griffith explained that the best way to ensure legitimate regulation in the public interest does not give rise to a claim by a foreign investor for compensation under a BIT or an investment chapter of an FTA is by proper drafting: for example, including a "public health" (or similar) exception in the relevant agreement. This would have the effect of limiting the ability of a foreign investor such as Philip Morris to challenge the impact of legislation such as the plain packaging laws. Including specific exceptions in a BIT or an FTA rather than excluding the investor-state arbitration regime as whole would ensure that Australia remains in step with other developed nations and that Australian investors can rely on certain international protections commonly contained in BITs (such as protections against discrimination or expropriation without compensation) when investing overseas.
Arbitration in the Asia-Pacific
Dr Griffith also commented on the growing arbitration market in the Asia-Pacific region and the steps that Australian legal practitioners need to take to be competitive in that market. He expressed the view that Australian lawyers need to establish a presence and raise their profiles in Asia-Pacific jurisdictions by participating in regional conferences and establishing contacts in the region. 
Turning to Australia's prospects of attracting more arbitration work to its shores, he noted that Australian companies could promote Australia by selecting Australian jurisdictions as the seat of arbitration in their international contracts.
Dr Griffith also emphasised the importance of judicial support for arbitration to Australia's reputation as an arbitration-friendly jurisdiction. As a participant in the drafting of the 1985 UNCITRAL Model Law on International Commercial Arbitration (now enacted as Australian law in the Commonwealth International Arbitration Act 1974), he stressed the need for courts to refrain from applying conventional common law standards when reviewing and supervising arbitral decisions, and to adopt a non-interventionist approach.
He noted that decisions such as the High Court's judgement in TCL Air Conditioner (Zhongshan) Co Ltd v Judges of the Federal Court of Australia (2013) 295 ALR 596 were a step in the right direction. 
In conclusion, this conversation with Dr Gavan Griffith featured engaging insights into the key issues impacting the development of international arbitration in Australia today, as well as providing the audience (and younger practitioners in particular) with useful ideas on how to become involved in this growing field of legal practice. 
The event was the third in a series of 'fireside chats' with leading arbitration specialists hosted by the Victorian chapter of CIArb. Earlier this year, the Melbourne centre also held fireside chats, with leading Australian arbitrator and Clayton Utz partner Professor Doug Jones, and with Karyl Nairn QC, an Australian from Perth who is co-head of the global international arbitration and litigation practice at Skadden Arps Slate Meagher & Flom in London.
Eugenia Levine is a member of the Victorian Bar. She recently served as counsel assisting the Arbitral Tribunal chaired by Dr Griffith QC in investment treaty arbitration that featured the Government of Turkey on the other side. Eugenia is pictured on the far right with Albert Monichino QC on the left and Dr Gavan Griffith QC in the middle.