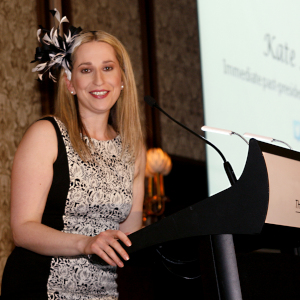 This year's Women in Law Awards reminded Folklaw that the country's top lawyers are human too…_x000D_
This year's Women in Law Awards reminded Folklaw that the country's top lawyers are human too…
If there's one thing Folklaw has learnt since it started reporting on the legal profession is that lawyers like to talk shop. Often, when a lawyer is handed a microphone, a lengthy sermon follows.
So it was a refreshing change to hear the speakers at the 2014 Lawyers Weekly Women in Law Awards talk about their personal lives, warts and all.
The evening's keynote address was given by a prominent member of the Victorian Bar, Fiona McLeod SC, who described the delicate art of juggling a demanding job and raising children.
Fiona recalled being interrupted in the middle of court hearings with inane questions, such as: "What's for dinner?" and "Where's the dog?" – to which she replied: "Forage!" and "Go look!".
"How precious that all seems now," she mused. 
"I hope that my instructions … will one day be appreciated as having contributed to their resilience and confident approach to problem solving."
Fiona inspired other speakers to tell their own parenting anecdotes.
Legal Mentor Award winner Sally Macindoe revealed in her acceptance speech that she had been asked similar questions by her children at equally inopportune moments. The Norton Rose Fulbright partner was taken aback by one question, in particular:
"You get the call when you've been away for four days of, 'Mum, where are you?' and they haven't actually noticed that you've gone," she said.
It's still early days for new mum and Junior Counsel Award winner Sharon Burchell, who wasn't able to pick up her trophy because she had recently given birth to twins. But Folklaw reckons it won't be long before she too is sharing amusing anecdotes about her girls.
A fine romance
Another parent, John Sheahan from Sheahan Lock Partners, spoke affectionately about his daughter, a lawyer at Johnson Winter & Slattery, as he introduced the Junior Counsel Award.
However, it was the story of how he inadvertently romanced his partner Lisa that roused laughter and applause.
John impressed Lisa at last year's Women in Law Awards when he told a hilarious yarn about the first time he met Dame Roma Mitchell, Australia's first female silk, judge, university chancellor and state governor.
That was the couple's third date.
About eight months later, John was invited to speak again at the Lawyers Weekly Law Awards in Sydney. The Dame Roma story was hard to top and, unfortunately, Lisa thought John was "a bit boring" the second time around.
John's encounter with the famous Dame prompted the evening's "mistress of ceremonies", Kate Ashmor (pictured), to recount her own brush with celebrity when she was an articled clerk.
It was during the trial of crime boss Tony Mokbel before he absconded overseas.
Kate was in court for another case when Mokbel and his "posse" of silks and bodyguards crossed her path; but the notorious drug lord wasn't the first person she noticed…
"Dressed head to toe in white satin [and] six inch pumps was Zarah Garde-Wilson," said Kate, admitting that she didn't recognise the lawyer to underworld figures like Mokbel, Carl Williams and Victor Brincat at the time.
When it comes to fashion, Kate knows what she's talking about.
Always stylish, Kate wore a handsome fascinator to the Awards. She admitted, however, that her choice of headwear was a silent protest at not being able to attend the Caulfield Cup the following day, rather than a fashion statement.