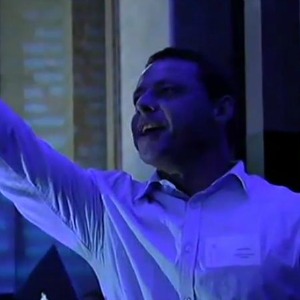 The Commonwealth Attorney-General just got heckled at a human rights awards ceremony by someone regarded by many as a victim of severe human rights abuse.
You heard that right. Attorney-General George Brandis was publicly brought to task over his government's less-than-perfect human rights record by the man the government left to rot in Guantanamo Bay 13 years ago.
"Hey, my name is David Hicks," he shouted to Brandis. "I was tortured for five and a half years in Guantanamo Bay in the full knowledge of your party. What do you have to say?"
Hicks (pictured) could not have picked a better moment to confront the Attorney-General over government indifference to the years he spent being tortured in Cuba.
Brandis had just concluded an apologetic address in which he promised to release the 702 children locked up in detention centres on Christmas Island.
Hicks' outburst also occurred on the same day that the US Senate published a damning report on the use of torture by secret service agencies.
The report contradicted the CIA's claim that information gained through torture had prevented terrorist attacks. It also stated that the coercive techniques were "far more brutal than approved".
Brandis ignored the heckle and hurried off stage, at which point Hicks told reporters he thought Brandis was a "coward" for running away.
Hicks was captured in Afghanistan in 2001 and spent six years in a US maximum security prison where he says he was beaten and tortured.
Although the Coalition government admitted at the time that Hicks had not broken Australian law, the Howard government's chummy relationship with the US clearly took precedence over its advocacy for 'rogue' Australian citizens. 
Hicks pled guilty as part of a plea bargain in 2007 and was extradited to Australia, where he served a further nine months.
Hicks' lawyers claim he had no knowledge that the Taliban camp he was training at in Afghanistan was affiliated with Al Qaeda.
Hick's lawyer Stephen Kenny said the heckle was entirely spontaneous: "I think David was surprised to find Minister Brandis there, talking about human rights, when he was a member of the Howard government who had so completely ignored David's human rights."
The awards ceremony was held on 10 December at Sydney's Museum of Contemporary Art to mark International Human Rights Day.