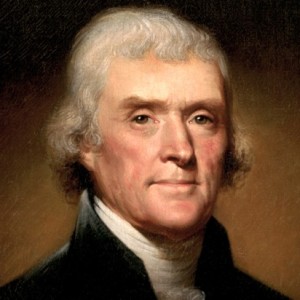 An American lawyer who dressed as Thomas Jefferson at a disciplinary hearing has been disbarred for "inexplicable incompetence".
Folklaw thought it was bizarre that Dennis Hawver decided to don a powdered wig, 18th century suit and long white stockings to face charges of professional misconduct in the Kansas Supreme Court.
However, after a little digging, we discovered that his behaviour was not totally out of character.
Hawver came to the attention of the legal watchdog after taking a peculiar approach to defending his client, Phillip Cheatham Jr., who faced the death penalty for murder.
At trial, Hawver described his client as a "professional drug dealer" and a "shooter of people", according to the ABA Journal.
He also failed to present evidence that might have given Cheatham an alibi at the time of a murder with which he was charged.
Hawver's defence went from bad to worse. He apparently introduced evidence that his client had a prior criminal conviction even though the court had conceded it was not admissible. Hawver also tried to argue that his client would never have left a witness alive if he had, in fact, shot the two female victims.
"Ladies and gentlemen of the jury, if my client was the shooter, why would he have left the witness alive to testify? He's a man who finishes the damn job," Hawver said at trial.
Folklaw hasn't worked out what Hawver did to actually defend his client and, as you've probably already guessed, the trial did not go well for the defence.
When the time came to sentence Cheatham, Hawver recommended his client be executed.
Folklaw was gobsmacked.
So was the state's disciplinary administrator, Alexander Walczak, who found 24 specific instances of "deficiencies", the most concerning being that Hawver "had no idea of the law of capital murder".
A subject that Hawver is an authority on is Thomas Jefferson, one of America's founding fathers and principal author of the Declaration of Independence.
"I appear before you today dressed as Thomas Jefferson, who is my hero among the founders. And I wore this outfit because today, the issue before you is whether or not the Constitution of the United States, as interpreted by the United States Supreme Court, has bearing on our rights," he said at his disciplinary hearing.
In defending the charges against him, Hawver claimed the court was violating his constitutional rights, but then banged the lectern with his hand, shouting, "I am incompetent!"
The court agreed and Hawver was disbarred on 14 November.