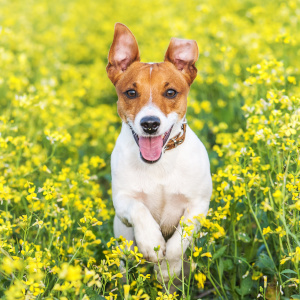 A barrister's mischievous terrier will live to see another day after a court ruled the dog was not dangerously out of control when he bit a police horse.
Elena Butterfield is a young barrister working in London who likes to take her pet dog for a walk in Greenwich Park in south east London.
Louis is an excitable Staffordshire terrier who had, up until the start of this year, never seen a horse.
On one of their regular walks, Butterfield let Louis off his leash to do what terriers like to do – roll around, chase butterflies and antagonise bigger dogs.
But the excursion took an unexpected turn when two police horses crossed Louis' path.
Seeing such an impressive creature for the very first time was too much for Louis, who launched at the horses and bit one on the shoulder.
Butterfield was prosecuted under the Dangerous Dogs Act for being in charge of a dog that was dangerously out of control in a public place, the London Evening Standard reported.
On 2 December, 10 months after the incident, Butterfield was cleared of any wrongdoing, with the court finding that she did everything possible to prevent Louis from harming the horses.
Butterfield, who was emotional after being cleared, said the ordeal had affected her confidence and had even led to suicidal thoughts.
Meanwhile, Louis is blissfully unaware of the trouble he caused and how close he came to being put down.
Oh, to be a dog…