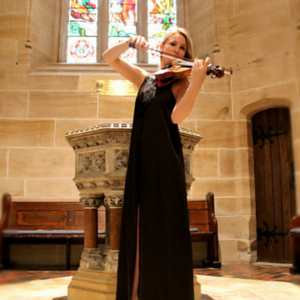 Construction lawyer Stephanie Livanes has a second string to her bow, but says being a professional musician enhances her legal career and she sees no reason to choose between the two.
Construction lawyer Stephanie Livanes has a second string to her bow, but says being a professional musician enhances her legal career and she sees no reason to choose between the two
I have been a construction lawyer for almost three years now, working full time in the Sydney office of CBP Lawyers. If someone had told me whilst I was studying law that I would one day be working in construction law, I would have laughed at them. I'm a long way from being the person I would then have imagined a construction lawyer to embody and I am a musician at heart. But I love being a construction lawyer.
I started playing the violin at the age of three and have been playing professionally for about nine years. The violin is one of my greatest passions. I was classically trained, but now I play a combination of classical and contemporary violin. Not a week goes by without me playing at some sort of gig, whether it be a corporate function, recording in a studio or playing at a wedding.
While I was studying law I supported myself by teaching violin, both privately and at schools, and by working as a freelance musician. I was lucky enough to travel the world performing in a small ensemble. When I was 19 and in my first year of uni, my very first professional gig was in Dubai. I also started my own business, performing with a quartet at weddings and various private functions. It was the perfect job for a student.
This year I decided to give myself an extra challenge and put myself through an Australian Music Examinations Board violin exam, the Licentiate in Music, Australia (LMusA). For about 12 months leading up to the exam, I practised before and after work and during lunch breaks. I don't think I have tried harder at anything before in my life. Despite being told by various musicians that I wouldn't pass the exam, I passed with distinction. I was ecstatic!
Rehearsal and performance
Looking back at the path I have taken, it struck me that my training as a musician has helped me immeasurably in my career as a lawyer. The first thing it taught me was patience and determination. No-one ever developed a brilliant technique overnight. Constant practice is hard work and achievements can be a long time coming. Learning the violin taught me that there is no such thing as 'I can't do this'; there is only 'I haven't mastered this YET'.
People ask me why I don't just pick either law or music to concentrate on, and the answer is because they go together so well. I think the greatest skill that music has given me which supports my legal career is the ability to concentrate for long periods at a time.
Music demands technical proficiency but rewards creative thinking. I think the same can be said of law. Music allows me to think creatively, think about the music contextually and zone out to everything else. When analysing a legal issue, I aim to do the same thing – I try to think outside the square, consider the bigger picture and really concentrate on the issue at hand.
Being a musician has also increased my confidence in practising law. I used to find being on stage completely daunting, but I learnt how to deal with that feeling and even to thrive on it. When I am appearing in court or speaking in public, I just imagine that I am on stage and try to 'perform' with confidence and charisma.
Another benefit of studying music was that it enabled me to develop a strategy for tackling complex problems. Musicians have to do this all the time. When we learn a difficult passage of music, we slow it right down, break it up into modules and then work on one module at a time until we've mastered it. The same approach can be applied to complex problems in any other discipline.
Two-part harmony
For me, perhaps the most important parallel between music and law lies in the philosophy that underpins the Suzuki method, under which I studied – that if children are taught to play music in harmony with one another, they will grow up to form a harmonious society, where we can all agree to live and let live.
This fundamental desire to create harmonious social structures is what music has in common with law. A clear, well drafted and fair construction contract which protects everybody's rights and helps avoid disputes is striving for the same harmony as a violin concerto – but its logical, rational structure is expressed by words instead of musical notes.
It is this striving for harmony and reason which I see as the most important common ground between music and law. That's why I love them both.
I know of one eminent Senior Counsel in the construction world who plays in a jazz band on weekends. While I'm still a long way from mastering the challenges that construction law has to offer, I'm encouraged that others can find success in it without foregoing the other things they love doing. That's why I tell anyone who'll listen that 'you don't just have to pick one'.
Stephanie Livanes (pictured) is a lawyer with the construction and engineering group at CBP Lawyers in Sydney