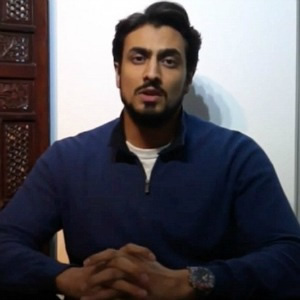 Clifford Chance rookie Aysh Chaudhry (pictured), 22, has received international notoriety after ranting about the Charlie Hebdo massacre in a YouTube video.
The overwhelming response of the Western world has been to stand by the fallen Parisian satirists and uphold their right to free speech, but Chaudhry argues they had it coming.
"Brothers and sisters, we would not be here had it not been for the fact that the kuffar had gone to our lands and killed our people and raped and pillaged our resources," he said in the 21-minute video, which was watched 700 times before being removed.
'Kuffar' is a derogatory term for non-Muslims, often equated with 'infidel'.
Chaudhry said that Muslims should not be apologetic about 'Islamic responses' to "attacks on Islam" and should cast off the "Western cultural lens" through which they view insults to their religion.
It is unclear what Chaudhry means by an 'Islamic response' but he does not say he condones the execution of cartoonists and innocent bystanders in his video.
"We are becoming infatuated with the civilisation of the kuffar and their beliefs and their values and indeed we have latched on to these," he said.
Chaudhry ranted that freedom of speech was not a reality, but successfully undermined his own point by using Holocaust deniers as his only example.  
"You wouldn't walk around Germany denying the Holocaust," he said.
He equated freedom of speech with "absolute freedom to insult Muslims".
"Stop putting freedom on this pedestal. This is a value stemming from secular, liberal beliefs. We don't need a value which stems from a bankrupt ideology," he said.
As a lover of all things ironic, Folklaw couldn't listen to this incoherent outburst against free speech without supressing a grin – how amusing to be vocally attacking the very activity one is engaging in!
These are dark days in France. The Paris attacks left 17 dead, including Charlie Hebdo cartoonists, a policewoman, the gunmen and the four hostages they killed at a kosher supermarket.
Chaudhry was quick to apologise for his tasteless comments, saying he "had no intention other than to encourage intellectual debate and would never support or condone violence".
Clifford Chance has not said what disciplinary action it will take in response to Chaudhry's video.
The trainee lawyer only started at Clifford Chance in London six months ago, after completing internship programs at other high-profile law firms, including Slaughter & May, White & Case, Freshfields and Berwin Leighton Paisner.
A spokesperson for Clifford Chance told the press: "The views expressed in this video are personal and not those of Clifford Chance. The firm is committed to establishing an inclusive culture where people with diverse backgrounds and views work effectively together and feel confident to develop their potential.
"We ask our people to at all times consider how their personal conduct and actions may affect those around them, their professional reputation and that of the firm."